Well Carved™ Organic Asian Style Pork Meatballs
Well Carved™ Organic Asian Style Pork Meatballs
Organic pork paired with organic brown rice, green onion, carrot and parsley. Delivering 1/4 cup of vegetables per serving*.
*One serving of this product does not provide a significant amount (1/2 cup) of vegetables. USDA dietary guidelines for Americans recommend eating 2 ½ cups of vegetables daily.
Ingredients
Organic Pork, Organic Brown Rice, Organic Green Onion, Organic Carrot, Organic Parsley, Organic Ginger. Contains Less Than 2% Of The Following: Organic Garlic, Organic Spinach, Sea Salt, Organic Rice Starch, Organic Lemongrass, Organic Black Pepper.
Spices
Garlic, Black Pepper
Cooking Instructions
Stove Top: Lightly coat a medium sized saucepan with cooking oil. Heat 9-11 minutes over medium heat while stirring constantly.
Microwave: Place 2 meatballs on a microwave-safe plate and cover with a paper towel. Microwave on High 50-60 seconds or until hot. Let stand for 1 minute before serving.
Oven: Preheat oven to 350℉. Place meatballs on a lined baking sheet and bake for 15-20 minutes or until hot.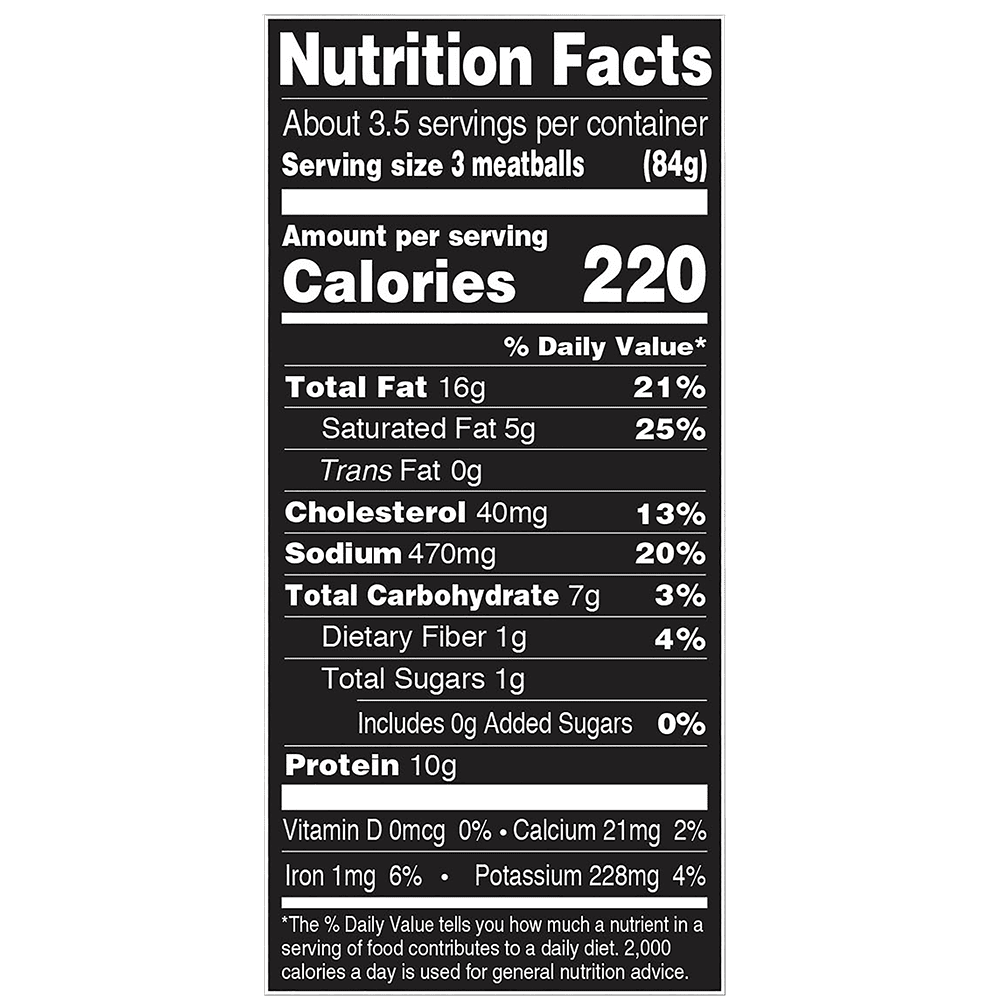 Taste starts on the farm with the way animals are raised.
Pork Raising Practices*

No antibiotics ever 
Applegate Humanely Raised 
No crates ever
No tail docking or teeth clipping 
100% vegetarian diets, no animal by-products 
More space to engage in natural behaviors and promote natural growth
Environmental enrichments
More solid flooring (reduces injury and stress) 
More time with mom (longer weaning period)

*Compared to practices outlined by National Pork Board.

Ingredients

No chemical nitrates or nitrites
No artificial ingredients or preservatives 
No fillers
No GMO ingredients
Real Food Has a Story
®
Sourced from
Illinois, Indiana, Iowa, Kansas, Kentucky, Michigan, Minnesota, Missouri, Nebraska, Ohio, Wisconsin, Quebec (Canada), Ontario (Canada), Prince Edward Island (Canada), New Brunswick (Canada) & UK