Chicken and Apple Sausage Skewers
This colorful APPLEGATE ORGANICS® Chicken & Apple Sausage skewer is a perfect summer dinner. As featured in The Applegatarian.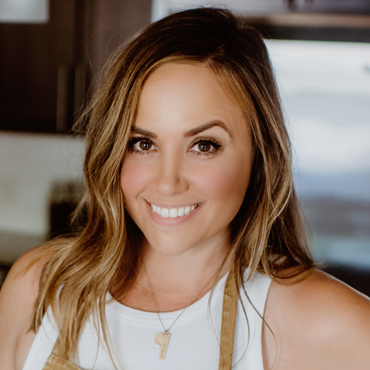 NICOLE TINGWELL
Born in Brazil and raised in Chicago, Nicole's passion for food began during her early teens when she would frequently help her mom in the kitchen. Great memories of her family gathering around her mom's delicious and healthy home-cooked meals were what prompted her to pursue her craft. After graduating from culinary school at the Cooking and Hospitality Institute of Chicago, she worked in a small restaurant in the Chicagoland area. Eventually she started Windy City Dinner Fairy where she focuses on easy dinner recipes, cooking techniques to make you look like a pro, and tips to help you entertain beautifully!
Ingredients
12 ounces APPLEGATE ORGANICS® Chicken & Apple Sausage, sliced into ½-inch round pieces
14 ounces heirloom cherry tomatoes
20 ounces halloumi, cut into 1-inch pieces 8 slices sourdough bread
2 tablespoons olive oil
3 tablespoons pesto, or more if desired
Instructions

Thread the sliced sausage, tomatoes, and halloumi onto skewers.
Preheat a grill pan or grill to medium heat. Brush both sides of the sourdough with a little oil. Cook until lightly charred, 1 to 2 minutes on each side.
Brush the skewers with remaining oil. Cook, turning often, until the tomatoes and sausage are golden brown and the halloumi is crispy in spots, about 5 minutes. Transfer to serving plates. Spoon the pesto over the skewers. Serve with the char-grilled sourdough and additional pesto if desired.




The Applegatarian, an outlet where employees and advocates of the nation's leading natural and organic meat brand dish about their favorite recipes, tips, products, partners and more.