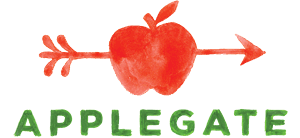 Triple Jalapeño Grilled Cheese with Bacon
This sandwich rocks! Spicy, cheesy, bacony…it covers all the bases of yum. Mayonnaise is a great tool for grilled cheeses—it's easy to spread and toasts up to an even golden crunch.
Ingredients
4 slices good sandwich bread
2 tablespoons mayonnaise
2 tablespoons finely chopped fresh jalapeño
2 tablespoons finely chopped pickled jalapeño
6 slices Applegate Naturals ® Sunday Bacon ® Brand, cooked until crisp
Instructions

Spread 1 side of each piece of bread with mayonnaise. 
Lay 2 of the pieces of bread, mayo-side down, in a skillet. Top each piece of bread with 4 slices of cheese. 
Scatter the chopped fresh and pickled jalapeños evenly over the cheese, then top each with 3 slices of bacon. Close the sandwiches with the remaining bread, mayo-side up. 
Cook over moderate heat, flipping once, until golden and crusty and cheese is melted, about 5 minutes. Serve warm.