Bacon and Sweet Potato Collard Wrap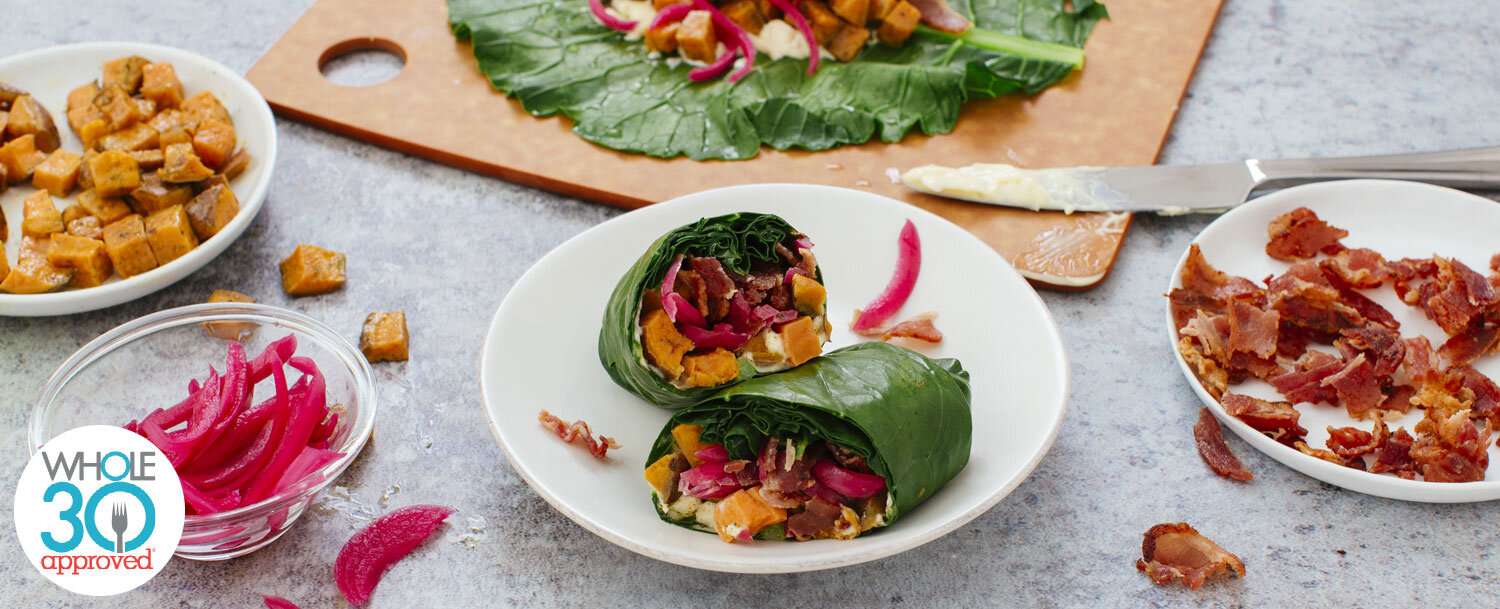 This veggie forward recipe uses a collard leaf to wrap these simple, yet flavorful ingredients- roasted sweet potatoes, pickled red onions, garlic aioli, and we had to sprinkle in some bacon… In our experience, bacon makes everything taste better.
Serves 1 | Total Time: Less Than 15 Mins
Ingredients
For the wrap:
For the Roasted Sweet Potatoes:
Instructions
For the wrap:
Cut out the thickest part of the main rib of the collard leaf and discard (this will make rolling the wrap easier). Blanch the leaf in a large pot of boiling salted water for 10 seconds. Using tongs, remove the leaf and run under cold water to stop the cooking. Pat dry.
Place the leaf on a work surface, overlapping the cut sections of the leaf to make 1 whole wrapper. Carefully spread the aioli over the center of the leaf. Top with the sweet potatoes, chopped bacon and pickled red onions.
Fold the sides of the leaf in, over the filling, and then roll up snugly like a burrito. Cut in half, if you like, before serving.
For the Roasted Sweet Potatoes:
Preheat the oven to 400°F.
Combine the sweet potatoes, olive oil and Super Gyro seasoning in a bowl and stir until thoroughly coated.
Transfer the seasoned sweet potatoes to a baking sheet and roast, stirring once, until tender, about 20 minutes.
Remove from the oven.