Classy Italian Zoodle Bowl with Sliced Hot Dogs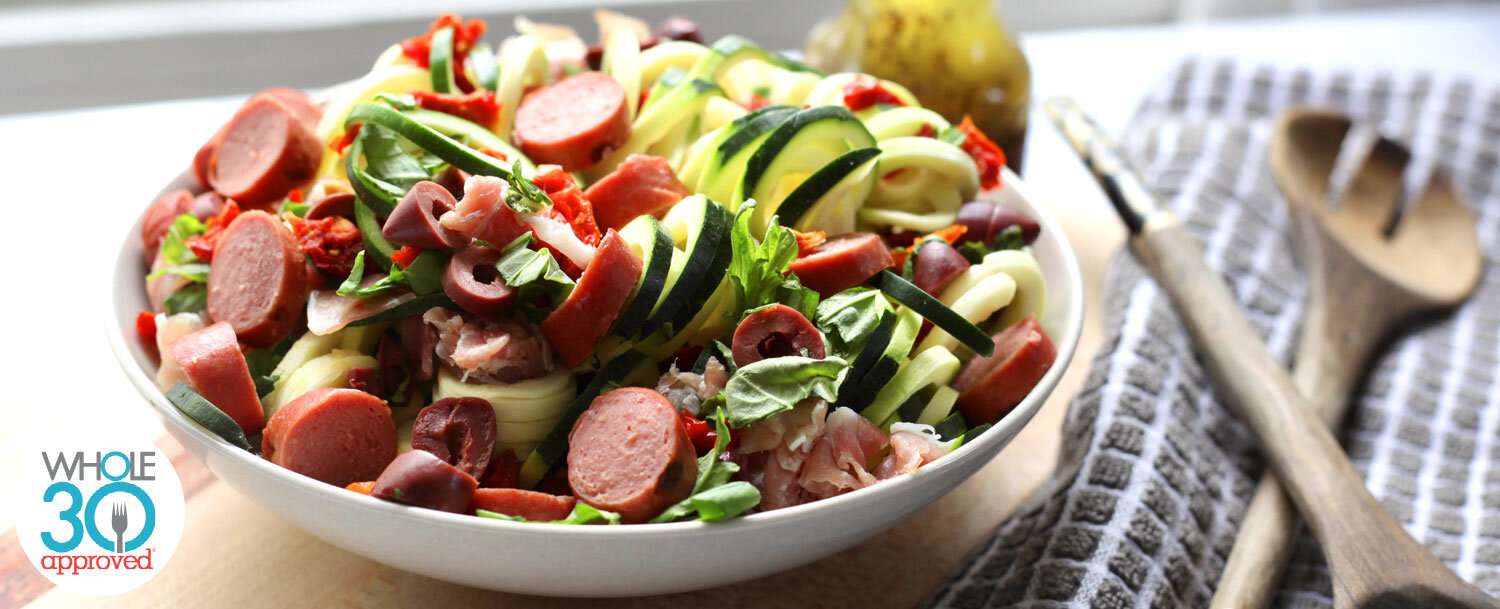 Photography by: Sarah Steffens
Melissa Urban, co-creator of Whole30, shows us how you can enjoy Italian flavors, without grains, sugar, or dairy. Slice up a couple of hot dogs, lay them over a bed of zucchini noodles (zoodles), and top them with classic Italian ingredients like Kalamata olives, sun-dried tomatoes, fresh basil, and crispy prosciutto. Proof that zoodles, hot dogs, and classy belong in the same sentence.
Serves 6 | Total Time: Less Than 60 Mins
Ingredients
Zoodle Bowl:
2 Tbs. avocado oil
6 medium zucchinis, spiralized to form "zoodles"
1 tsp. sea salt
½ cup sun-dried tomatoes
½ cup Kalamata olives, sliced
½ cup fresh basil, minced
2 slices Applegate Prosciutto, minced
2 packs of Applegate Naturals® Beef Hot Dogs
Oregano Vinaigrette:
½ cup olive oil
1 tsp. sea salt
1 tsp. dried garlic powder
½ tsp. black pepper
2 Tbs. fresh lemon juice
2 Tbs. dried oregano
1 Tbs. Dried Italian Seasonings
Instructions
Sauté your zoodles over medium heat in avocado oil until they begin to soften, about 3 minutes. You may also use raw zoodles if you prefer.
Heat a pan with a few drops of cooking fat. When hot, add your prosciutto. Cook, flipping once, until slightly crispy. Set aside, allow to cool, then dice.
Fire up your grill or grill pan (if inside) and heat hot dogs through, until they have nice grill lines. Slice each hot dog in 1/2" bite sized pieces.
Whisk your vinaigrette ingredients in a bowl or a measuring cup with a spout.
Toss zoodles with the remaining ingredients and drizzle with Oregano Vinaigrette.