Cod with Peas and Natural Bacon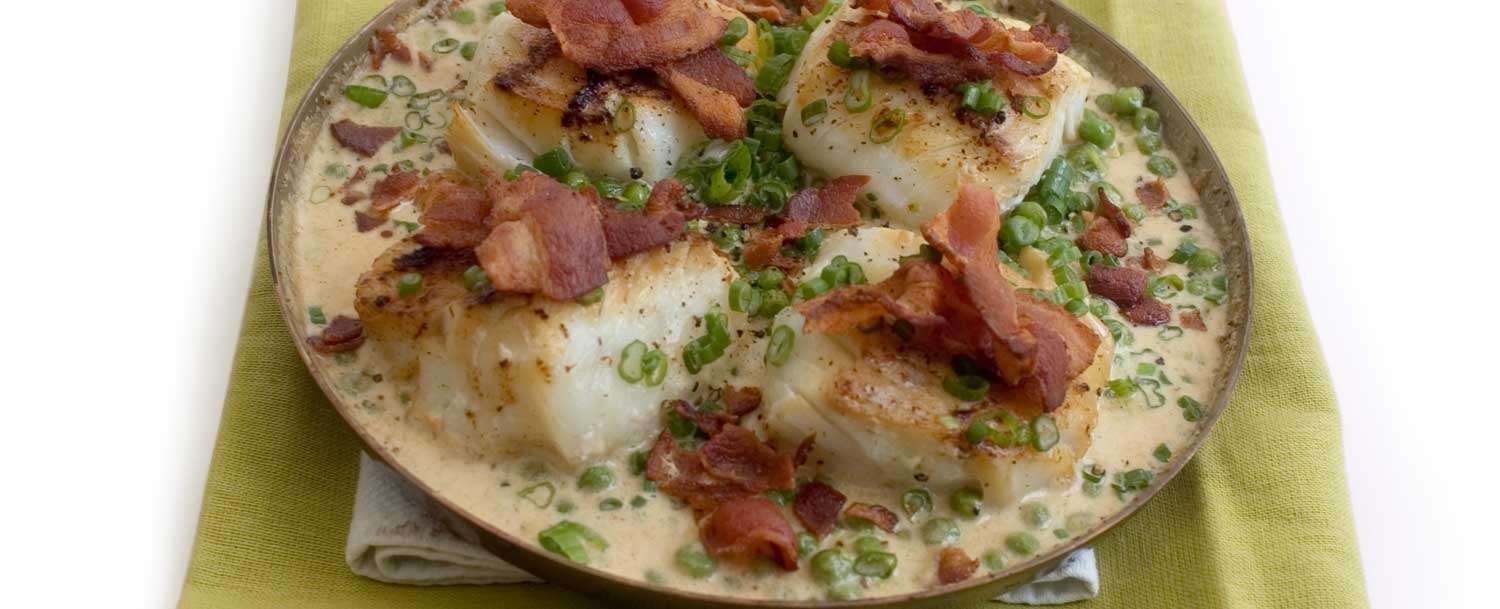 Here's an idea you might like … In the Applegate Kitchen we love using fresh peas when they are in season. We blanch them in boiling salted water until just tender before adding them to the skillet.
Serves 4 | Total Time: Less Than 60 Mins
Ingredients
2 tablespoons butter
4 6-oz skinless cod filets
1 bunch scallions, trimmed, with white and green parts chopped separately
2 cups frozen peas, thawed
1/4 cup white wine
1 cup heavy cream
Salt and freshly ground black pepper
Instructions
Cook the bacon in a single layer in a large skillet over medium heat, turning the strips often, until browned and crisp, about 10 minutes.
Drain the bacon on paper towels and pour off all but about 2 tablespoons of the bacon fat from the skillet.
Return the skillet with the bacon fat to medium heat and add butter.
When the butter has melted, add the cod and cook until browned on each side and just cooked through, about 4 minutes per side.
Transfer the fish to a plate and set aside.
Add the chopped white parts of the scallions and the peas to the skillet and cook for one minute.
Stir in the wine, scraping any browned bits stuck to the bottom of the skillet with a wooden spoon.
Let the sauce boil for one minute, and then stir in the cream.
Boil the sauce until slightly thickened, 8 - 10 minutes.
Return the fish to the skillet and let cook until heated through, about 2 minutes.
Add the chopped scallion greens and season to your taste with salt and pepper.
Crumble the bacon over the fish just before serving for the cod dish that will make you famous