Four Cheese and Tomato Bruchetta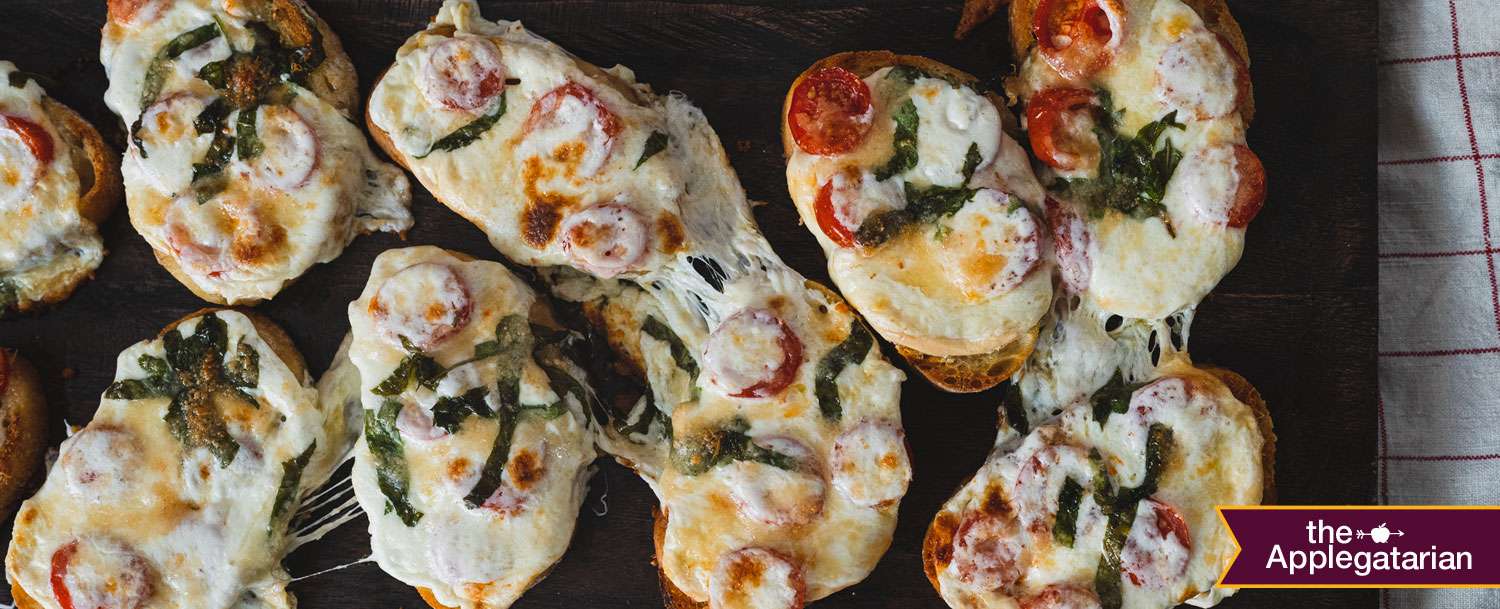 Featured in The Applegatarian. 

"My mom, Norma, always makes these for Christmas-I'm not sure where the recipe originally came from, it's just something we've always had. By the time we each eat a few of these, we usually are too full to finish the main meal! She loves to add a little smoked mozzarella to many of her dishes, as she does here, even her baked ziti. 'It just adds a little something,' she says!" 
- Claudia Burke, Applegate Specifications Coordinator
Serves 6-8 | Total Time: Less Than 30 Mins
Ingredients
1 (12-ounce) loaf ciabatta bread, sliced ½-inch thick About ½ cup extra-virgin olive oil
1 (4-ounce) log goat cheese
1 (8-ounce) smoked mozzarella, thinly sliced 1 cup cherry tomatoes, thinly sliced
1 (8-ounce) ball fresh mozzarella, thinly sliced 10-12 leaves fresh basil, thinly sliced
½ cup freshly grated Parmesan
Instructions
Preheat the oven to 375°F. Line a baking sheet with parchment paper.
Arrange the bread slices on the lined baking sheet. Brush the olive oil over the bread. Bake until lightly golden, about 8 minutes (keep an eye on them so they don't get too browned). Remove from the oven.
Spread some goat cheese over each piece of toast. Top evenly with the smoked mozzarella and sliced tomatoes. Lay the fresh mozzarella over the tomatoes. Top with the thinly sliced basil, then sprinkle the Parmesan over the top.
Bake until the cheese is bubbling and golden brown, 10-12 minutes (you can run under the broiler for a minute or two, if you like). Remove from the oven.
If the toasts are large, slice each in half and serve at once.