Homemade Pretzel Bites and Beer Cheese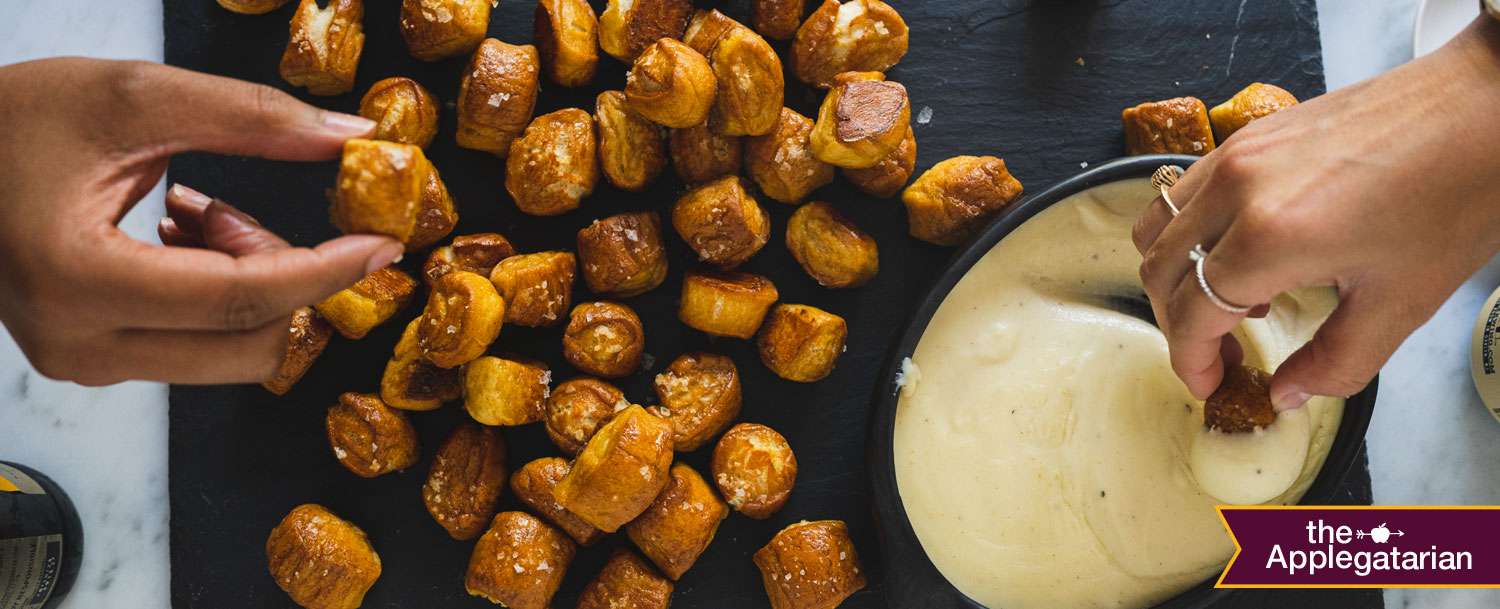 Featured in The Applegatarian. 
"My wife, Sara, and I started making this appetizer several years ago before a big game, and now it's become our thing-our friends always expect it. 

We even invested in a mini slow cooker (about 1½ quarts) for keeping the beer cheese warm when we serve it. Any pilsner will do, but we like to use a local one from a brewery in nearby Durham, N.C. 

The only other note for this recipe is that you must use a block of cheddar 

and grate it yourself; pre-shredded cheese will not melt properly."  
-Jacob Kim, Applegate Research and Development Manager
Serves 6-8 | Total Time: More Than 60 Mins
Ingredients
For the pretzels:
1½ cups warm water
2 tablespoons light brown sugar
1 (¼ ounce) package active dry yeast (2¼ teaspoons)
6 tablespoons unsalted butter, melted 2½ teaspoons kosher salt
4½ to 5 cups all-purpose flour Vegetable oil
% cup baking soda
1 whole egg beaten with 1 tablespoon cold water
Coarse sea salt
For the beer cheese:
1 (1½-pound) block sharp cheddar cheese 8 tablespoons unsalted butter

1 cup all-purpose flour 1 cup pilsner beer

3 cups whole milk
2 teaspoons ground coriander
Kosher salt and freshly ground black pepper
Instructions
To make the pretzels: Combine the warm water, brown sugar, yeast, and melted butter in the bowl of a stand mixer and mix with the dough hook until combined. Let sit until the mixture is creamy and bubbly, about 5 minutes.
Add the kosher salt and 4½ cups flour and mix on low speed until combined. Increase the speed to medium and continue kneading until the dough is smooth and begins to pull away from the sides of the bowl, 3 to 4 minutes. If the dough appears too wet, add additional flour, 1 tablespoon at a time. Transfer the dough to a work surface and knead with your hands for a minute or two; shape into a ball.
Oil a bowl, then add the dough and turn to coat with the oil. Cover with a clean towel or plastic wrap and place in a warm spot until the dough doubles in size, about 1 hour.
Preheat the oven to 425°F. Spray 2 large baking sheets with cooking spray.
Bring 3 quarts water to a boil in a large pot over high heat and carefully add the baking soda (be careful: the baking soda may cause some water to boil over).
Transfer the dough to a work surface and divide into 8 equal pieces, about 4¼ to 4½ ounces each. Roll each piece into a rope measuring about 22 inches long. Cut the dough into 1-inch pieces to make the pretzel bites.
Working in batches, add some of the pretzel bites to the boiling water and boil for about 30 seconds. Use a large slotted spoon to transfer the pretzel bites to the prepared baking sheet, making sure they do not touch. Repeat with the remaining pretzel bites.
Brush the tops of the boiled pretzel bites with the egg wash and sprinkle liberally with coarse sea salt. Bake until golden brown, 15-18 minutes. Transfer to a wire rack and let cool for 5 minutes before serving.
Meanwhile, make the beer cheese: Shred the cheddar cheese coarsely on a cheese grater. In a medium saucepan over low heat, melt the butter. Add the flour and cook, whisking constantly, for 3-4 minutes. Add the beer and cook, whisking constantly, for 5 minutes more. Add the milk, whisking constantly, and stir until thick, about 6 minutes. Add the cheese and stir until melted. Stir in the coriander, and salt and pepper to taste. Serve warm with the pretzel bites.
Note: Any leftover beer cheese can be refrigerated in an airtight container. Spread on crackers or sandwiches.