Crispy Purple Beets and Grape Dijon Mustard Hot Dog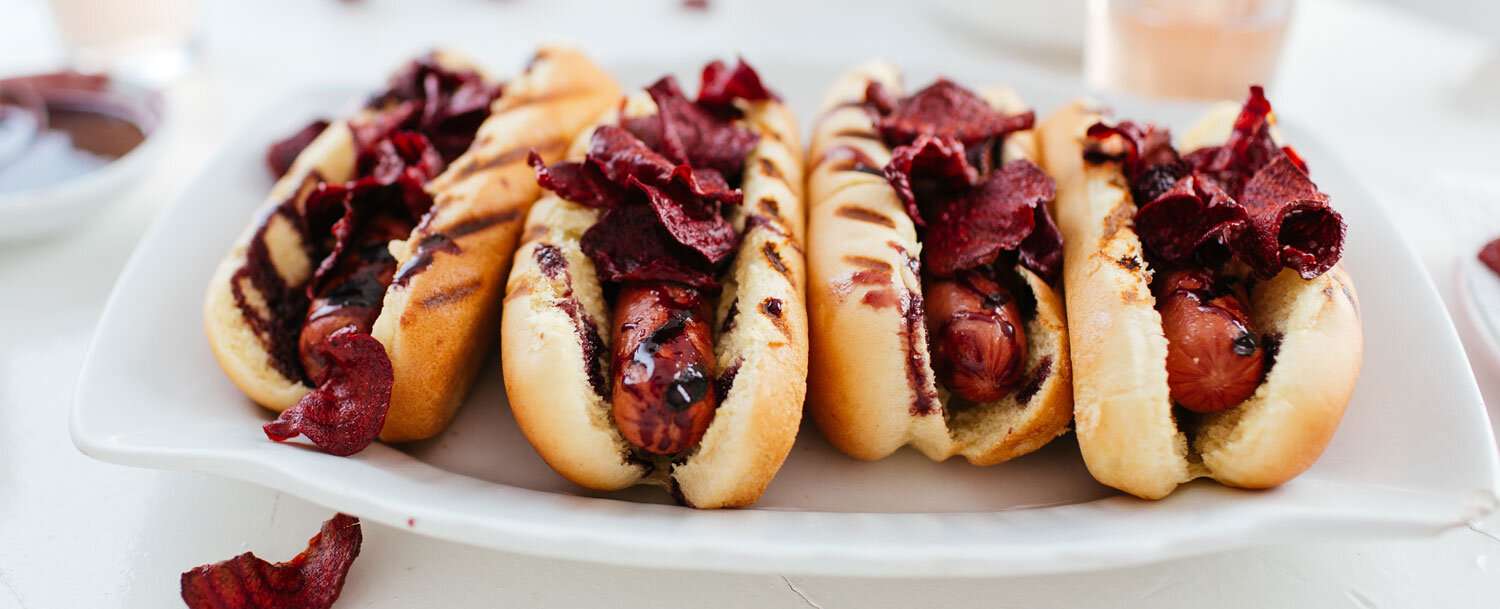 The color purple can evoke a range of emotions and symbolize many meanings like royalty and bravery. In the case of this recipe, purple represents deliciousness by pairing crispy beets and grape mustard as hot dog toppings.
8 Topped Hot Dogs | Total Time: Less Than 30 Mins
Ingredients
For Hot Dogs and Beets:
• 1 pack Applegate Hot Dogs – Applegate Organics® The Great Organic Uncured Beef Hot Dog™ Brand
• 1 pack of your Favorite Hot Dog Buns
• 3 medium-sized Red Beets, peeled and thinly sliced
• 2 cups Canola Oil
• ¼ teaspoon Salt
For Grape Dijon Mustard:
• 1 ½ cups Organic Concord Grape Juice
• 5 teaspoons prepared Dijon Mustard
Instructions
Beet Chips:
1. Using a mandolin slicer or sharp knife, slice beets into very thin rounds.
2. Using a deep skillet, fry in 350 degree oil for about 2-3 minutes until crispy. Fry in batches if needed.
3. Drain on paper towel, and sprinkle with salt.
Grape Djion Mustard:
1. In a medium-sized saucepan, reduce the grape juice to ¼ cup volume, or until it thickens and coats the back of a spoon.
2. Cool the grape juice reduction completely. Fold into prepared Dijon mustard.
Assembly:
1. Prepare hot dog to your liking. Place on bun.
2. Top with Grape Dijon Mustard
3. Top with crispy Beet Chips