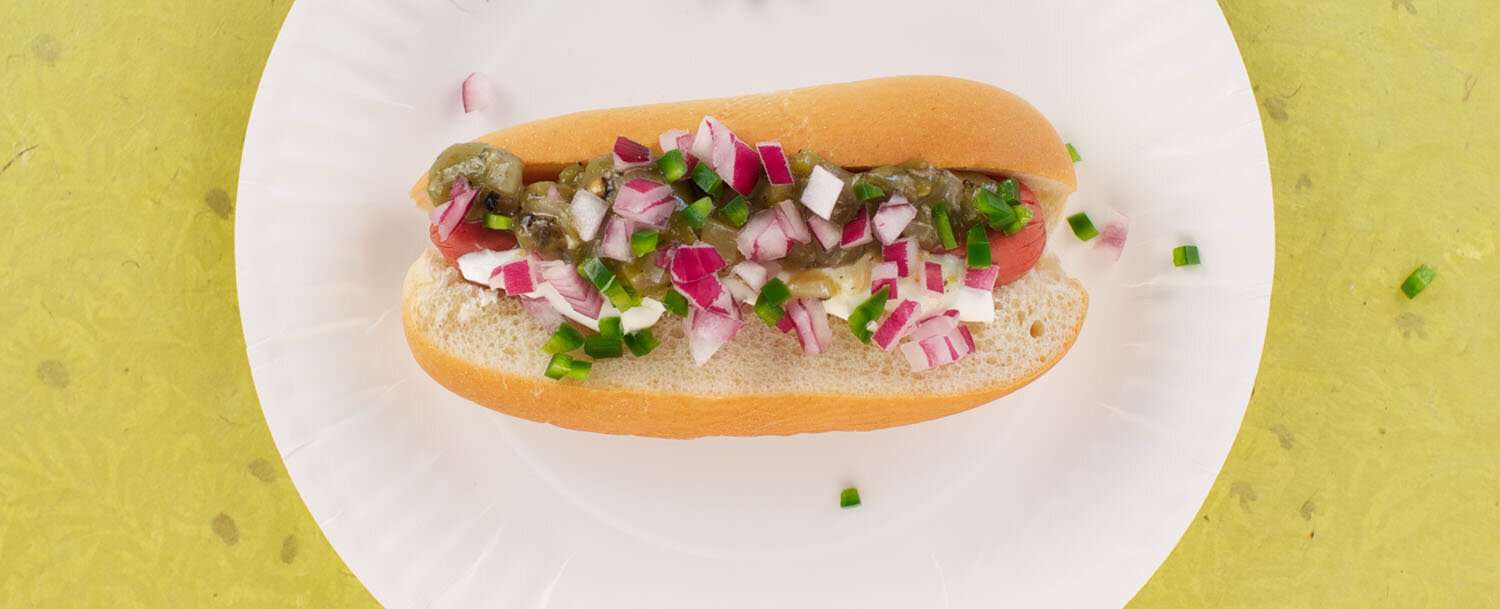 Denver Dog: Green Chile, Red Onions, Jalapeños, and Sour Cream
The Mile-High City deserves a hot dog with miles of flavor. A touch of sour cream tames the heat of roasted green chile sauce, chopped onions, and jalapeños.
Makes 8 | Total Time: Less Than 60 Mins
Ingredients
Hot Dogs
1 package hot dog buns, toasted
Green Chile Sauce (see recipe below)
½ cup sour cream
1 small red onion, finely chopped
2 jalapeños, stemmed, seeded, and finely chopped
Green Chile Sauce
2 tablespoons vegetable oil
1 small onion, finely chopped
2 garlic cloves, minced
1 teaspoon ground cumin
1 tablespoon flour
2 cups chopped roasted green chile
2 cups chicken stock or water
1 teaspoon salt
Instructions
Hot Dogs
Grill hot dogs to desired doneness.
Arrange hot dogs in toasted buns and top with green chile.
Dollop 1 tablespoon sour cream over each hot dog and top with a scattering of finely chopped onions and jalapeños.
Green Chile Sauce
This sauce, made with roasted green chiles, is served all over New Mexico and parts of Colorado. Depending on the heat of the chiles (much of their power lies in the seeds and ribs), it can range from mild to incendiary. Locals will eat green chile on almost anything. Try it over fried eggs, tucked into a burrito, or with grilled steak.
Makes about 4 cups.
Heat the oil in a medium heavy saucepan over medium heat.
Add the onions and cook, stirring occasionally, until softened, about 10 minutes.
Add the garlic and cumin and cook until fragrant, about 30 seconds.
Add the flour and cook, stirring constantly, for 1 minute.
Add the green chile, chicken stock, and salt and bring to a boil.
Reduce heat to a simmer and cook, stirring occasionally, until slightly thickened, about 15 minutes.