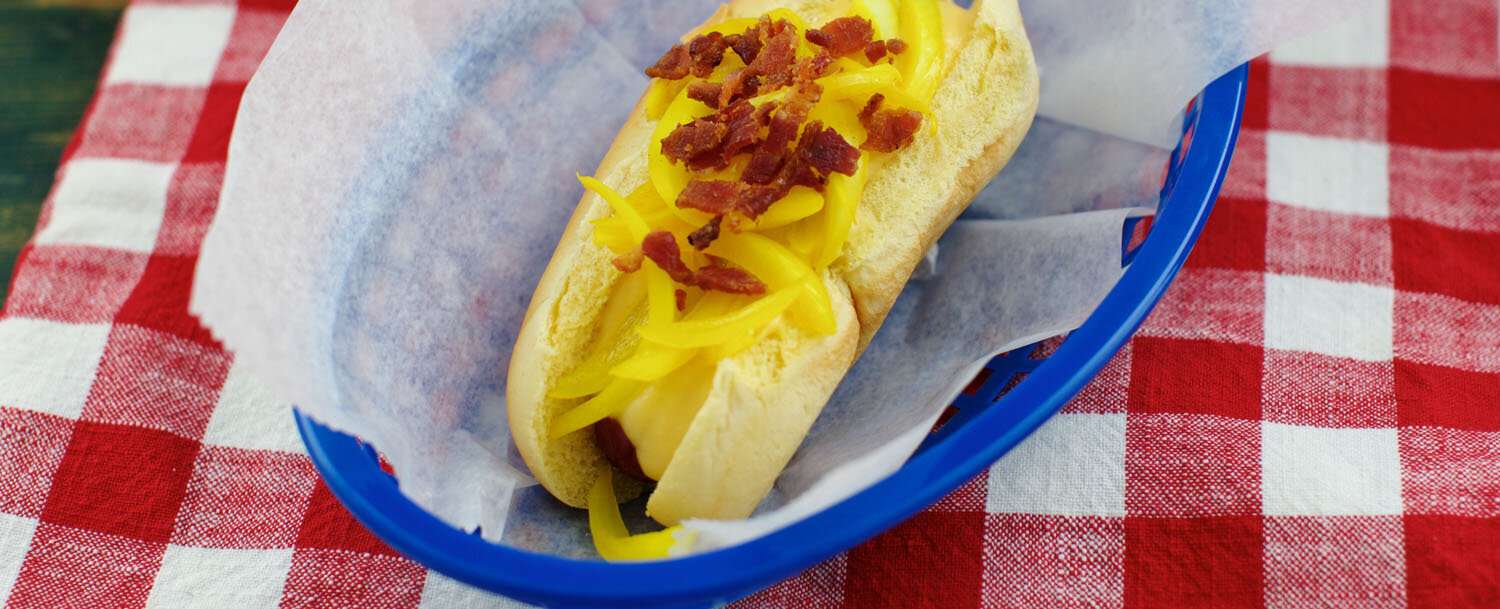 Sense the Gold Rush theme here? A river of cheesy goodness runs down the length of the dog then a treasure trove of bacon nuggets and a few bright pickled onions are added to help balance the richness. Eureka!
Makes 8 | Total Time: Less Than 60 Mins
Ingredients
Hot Dogs
2 tablespoons unsalted butter
2 tablespoons all-purpose flour
1 cup whole milk
1½ cups shredded or finely chopped Applegate Naturals® Medium Cheddar Cheese
Salt and freshly ground black pepper
1 package hot dog buns, toasted
Golden Pickled Onions (see recipe below)
Golden Pickled Onions
1 large yellow onion, halved and thinly sliced
2 cups water
1/2 cup rice wine vinegar
1/4 cup sugar
1 tablespoon salt
2 teaspoons ground turmeric
Instructions
Hot Dogs
Melt the butter in a small saucepan over medium heat. Whisk in the flour and cook, whisking continually, until very smooth and thick, about 1 minute. 
While whisking constantly, slowly add the milk and simmer until smooth and thickened, about 3 minutes. Reduce the heat to medium low and stir in the cheese and simmer gently until melted and smooth, about 3 minutes. 
Season to taste with salt and pepper. Keep warm. 
Meanwhile, cook the bacon until crisp, according to package instructions. Remove from heat, drain briefly on paper towels, then crumble with your hands or finely chop. 
Grill the hot dogs to desired doneness. Arrange hot dogs in toasted buns and top with the cheese sauce, pickled onions and bacon nuggets.
Golden Pickled Onions
These quick pickles are a delicious addition to burgers, sandwiches, cheese plates, salads…almost anything! They will keep in the fridge for up to 1 month.
Makes about 2 cups
Pack the onions into a clean pint jar.
Put all remaining ingredients in saucepan and bring to a boil. Reduce heat and simmer until the sugar, salt and turmeric are dissolved, about 3 minutes. 
Pour the hot brine over the onions, taking care not to spill any (the turmeric will stain). Let cool to room temperature then seal and refrigerate until ready to use.