9 Ways to Add Watermelon to Your Barbecue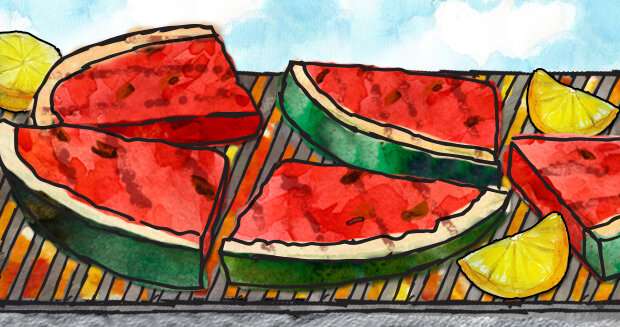 As the summer heat reaches its peak, let's take a moment to commemorate two of everyone's favorite things about summer: barbecues, and watermelon! Break out the ice cube trays and grab the skewers, because your summer BBQ plans are about to get hotter! Either as a healthy snack, dessert, or after a long jog- there's really no wrong time to enjoy a slice, or two, or three!

Watermelon Gazpacho
Gazpacho, usually made with tomatoes, can instead be made with watermelon to become a sweet and savory kick-off to your barbecue plans. One popular recipe is the watermelon gazpacho, a cold and creamy soup. It's made primarily with cucumbers, bell peppers, shallots, basil, and in this case, watermelon. The mix of red bell peppers and watermelon adds a vibrant color and flavor to your gazpacho.
Gluten-Free Watermelon Rind Soup
Here's a soup even a melon-hater can love. This gluten-free recipe will refresh you in the summer heat. Mix rinds with gluten-free stock, carrots, cilantro, and add a mix of herbs to your liking for a light and appetizing soup that can be served warm or chilled. Complete your meal with an Applegate Dinner Sausage on a bun or roll.
Stewed Watermelon Curry
This will be a summer favorite if you're into spices and curry. Serve this recipe to entice your taste buds and raise the heat. Mix with cumin, chili pepper, diced tomatoes, and turmeric to get a taste that your guests won't forget. Add rice, carom seeds, corn, and you can even throw in diced Applegate Fire Roasted Red Pepper dinner sausages to create the perfect dinner bowl.
Balsamic Watermelon Salad
Another cool way to incorporate watermelon to your plate is to add cubes to your salad either as a side dish or with protein. Add lightly seasoned chicken with chunks of watermelon to your choice of lettuce or spinach. Top with baby cucumber, celery, and avocados then sprinkle with a zesty balsamic vinaigrette.
Fruit Salad
Although there is nothing original about this suggestion, it deserves its rightful spot in your watermelon recipe arsenal. Feel free to get creative here, as it can be served before, after, or throughout your cookout. The point is to complement the savory juices of your hot dog or burger with bursts of cold and re-hydrating juice. Mix watermelon, mangoes, pineapple, and berries, and even top off with whipped cream to keep the fire burnin'.
Sweet or Spicy Salsa
If you're serving tacos at your party, this is one guest you need on your invite list. Chunky and chewy watermelon salsa on tacos or served with blue tortilla chips is a refreshing change. Grilled Applegate Natural Chicken Strips on soft-shell wheat tortillas topped with watermelon-infused salsa will sure to ignite any plate. Prepare with watermelon, cucumber, jalapeno, onion, and basil for a sweet and spicy mix. You can even add mangoes to the mix to boost the sweetness of the watermelon. Slice, dice, and gently toss in a bowl to serve. Dice it up into even smaller pieces to make pico de gallo and add some as a topping to your Applegate hot dog.
Grilled Watermelon and Pineapple Skewers
Watermelon, when grilled, loses its granular texture and becomes even sweeter. Coat it lightly on both sides with olive oil and grill until softened (about five minutes), then add some sea salt and stick it on a skewer alongside some grilled pineapple. The warmth of the fruit skewers will enlighten your taste buds when eaten alongside frozen custard.
Popsicles
Chop and mix a juicy watermelon, throw it on a popsicle stick, and freeze it in ice trays overnight. For varied recipes add other fruit and sweetening mixtures like maple syrup or a tangy touch of lemon.
Fruit Infused Water
Toss those sugary drinks and flavored mineral water into your nearest recycling bin and make your own fruit infused water! Because of its high water content and minerals, watermelon can actually hydrate your body more than any sports drink, and even water itself. Going out for a run? Put a few cubes of watermelon in your reusable water bottle, or you can purchase one solely dedicated for infusing fruit. Cut up a few slices and place them in a pitcher for a summer picnic, or keep a pitcher in the fridge for drinks throughout the day. A regular sized watermelon can keep you and your family hydrated for up to a week. Mix it up with some strawberries, pineapple, or other delicious fruit!

Mirna Plakalovic
Mirna graduated from Rutgers University with a degree in Supply Chain Management and now spends most of her time as a freelance writer. She is a former Applegate employee and still carries the Applegate spirit with her in her day-to-day life by encouraging happy and healthy lifestyles. Mirna is a writer, artist, and Pokemon master.
Visit Mirna on Twitter @batlifeblog.