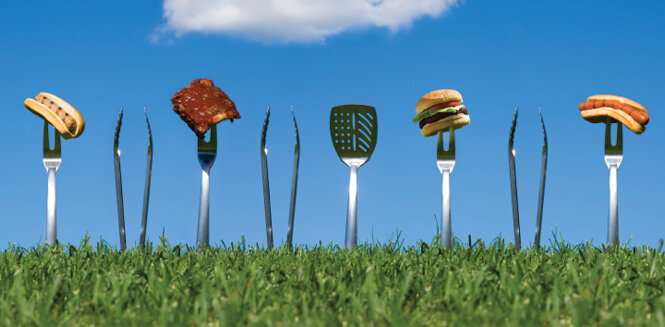 Warm weather, a little outdoor space and a hot grill are all you need for a perfect evening. In addition to being fun, grilling can be a better option for preparing great-tasting dishes, since you don't need heavy sauces or tons of oil. But how you grill is just as important as what you grill.
Here are a few better-for- you grilling tips:
1. Use that brush. After preheating the grill, use a long-handled brush to clean off debris from previous meals. This helps to prevent sticking and keeps burned bits out of your food.
2. Rub with oil. Making sure your grill is well-oiled actually helps keep your food healthier. Instead of using cooking spray (which is not recommended), rub the grill with a vegetable or olive oil-soaked cloth or paper towel, or use a grill brush.
3. Turn down the heat. The grill should be hot enough to cook your food and create those awesome grill marks, but not so hot that the outside of the food burns before the inside is fully cooked. Start the temperature at medium-high for most meats, and medium-low for most veggies. It helps to place veggies on one end of the grill and meats on the other, so you can better control the cooking environment for each.
4. Keep meat and vegetables separate. To avoid cross-contamination, use separate cutting boards, knives and serving platters for meats and veggies. Mingling these foods can cause foodborne illness, which of course we all want to avoid!
5. Choose lean cuts of meat. Choosing lean cuts of meat and trimming excess fat keeps flare-ups to a minimum, which helps keep your food tasty and safe.
And now, for the delicious part!
The options for grilled foods are endless, but these are my must-have healthy summer meals on the grill:
Grilled Vegetable Tostadas: I've been making these babies since 2006, but my family never tires of them - they're that good! We love adding a little sliced avocado.
Grilled Bacon-Wrapped Stuffed Hot Dogs: Use a Cleaner Wiener and humanely-raised bacon, and you can feel good about eating and serving them.
Enjoy these dishes and the last few weeks of summer!
Amelia
Amelia is a nutritionist, food-lover, and new mom who believes healthy eating should be easy and fun, not stressful or overwhelming. That's why she started Eating Made Easy, a site that answers your food & nutrition questions and offers practical tips to make eating at home easier. Next time you feel confused about what to eat, what to buy, or how to cook, head to Eating Made Easy to get Amelia's trusted, science-based advice.