Cheers to Changemaker Cathy Snyder of Rolling Harvest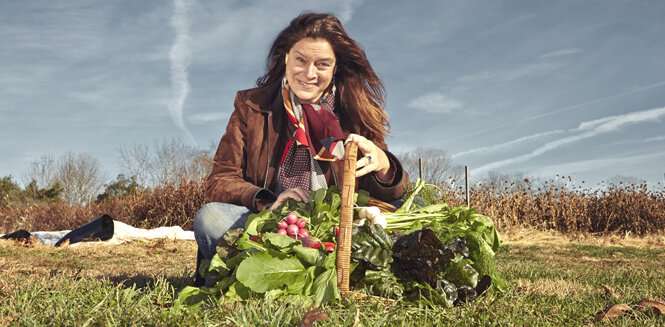 In 2009, Rolling Harvest Founder and Executive Director Cathy Snyder was regularly volunteering at her local food pantry in Lambertville, New Jersey when she took a trip to the New Hope Community Farmers Market to stock up on farm-fresh goods for her family. A light bulb went off. The rainbow-colored fruits, veggies, and fresh foods at the market were a world away from the cans, bags, and boxes that lined the shelves of the pantry. "It struck me as a moment of tremendous injustice," Cathy says.
"It also occurred to me that I could do something to make a difference." And so Rolling Harvest was born. "I started driving to farmers' markets in my big red truck," says Cathy. "I talked to farmers and asked them what would make it easy for them to give."
Four years later, Cathy and her team of about 40 volunteers work to procure the freshest, healthiest, locally-grown food and distribute it to those who need it most. They partner with Applegate, who supplies high quality organic meats and resources, as well as more than 19 farms that source fruits and vegetables.
Cathy and her team discovered local farms had a lot of gorgeous food to donate, but often lacked the means—the time, money, and resources— to do so. She organized volunteers to glean—to pick and collect crops from farmers' fields, and has created "more efficient, more effective" ways to get quality food from farms to food pantries, soup kitchens, domestic violence shelters, homeless shelters and low-income senior housing.
Rolling Harvest has delivered more than 142,000 pounds of "nutrient-dense, high quality, delicious food" through a growing distribution network that helps more than 11,200 families each month. "Our goal is to turn every food pantry into a farmers market," Cathy says.
Rolling Harvest works with more than 25 social service organizations who supply food for at-risk, low-income families. "We're not just dropping off food," Cathy says. Part of her work is to educate and inspire people about the "magnificent imperfection of food that is not bioengineered to sit on a shelf in a Styrofoam package."
Applegate is truly proud to work together closely with Rolling Harvest. Food makes people happy. Cathy and Rolling Harvest are working hard every day to make people's lives healthier, tastier, and more joyful.
Do you know a Changemaker who has made a positive difference in the local food community? Submit a nomination for his or her chance to win a $1,000 grant for the non-profit of his or her choosing at www.applegate.com/changemakers today!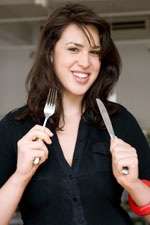 Hannah Howard
Hannah Howard is a food writer who spent her formative years eating, drinking, serving, bartending, hostessing, cooking and managing restaurants. She now writes about delicious things for a living.