Quick n' Easy Gluten-Free Snacks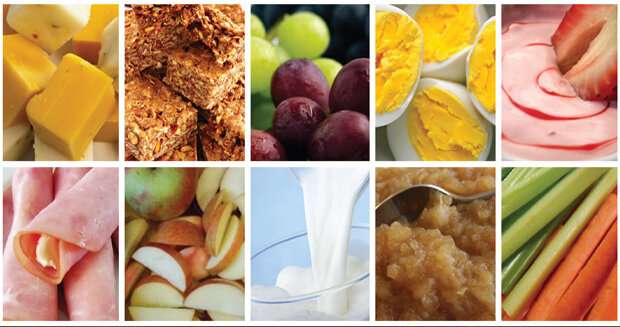 We all know the exhausting feeling of trying to plan a week's worth of snacks for the entire family. But there's no need to stress- set aside time to plan your week. Don't leave the menu until Monday when you find yourself scrambling to make dinner. Plan out your snacks along with your meals every Sunday. Make snacks a planning priority, just like your meals. Think about what foods you enjoy eating and branch out to create snacks around them so that nothing goes to waste.

Make a batch of lentils on Sunday night for dal on Monday, lentil soup with Applegate Bacon on Tuesday and a snack of lentils and Applegate Cheese wrapped in nori seaweed with avocado and salsa. Love your sweets? Freeze a yogurt, add cocoa powder for a spin on an ice cream Sunday. Got a salty craving? How about making nachos with melted Applegate Cheese, freshly chopped broccoli, spinach and salsa?
The trick is to always be prepared and get creative with your snacks. Be sure to keep fresh veggies on hand at all times- chop them up and store in sealable bags for the week for a quick grab n' go convenient nibble. I prepare Applegate Turkey wrapped around fresh asparagus and a slice of avocado for many of my clients. I always take note of foods I need to keep my pantry and fridge stocked at all times. These items own a spot on my grocery list and it's easy to purchase staples on Sunday for the week ahead.
Think of items that you can easily toss into your bag to eat when you're running errands or store in your desk such as dried fruit, nuts and seeds. It takes 5 minutes to add gluten-free oats into a bag along with dried fruit, coconut flakes and nuts. This can go anywhere and can last forever; just a bit of water and you've got yourself a nice snack to hold you over.
The benefits of eating clean, wholesome gluten-free snacks will have you feeling good about yourself and keep you feeling good.
Here are a few of my snacks to keep your gluten-free belly happy.
• Pear and Turkey Ricotta Tartine
Toast a piece of gluten-free toast. Top evenly, top with 2 Tbsp. apple butter, ½ thinly sliced pear, 1 slice of Applegate Farms Sliced Turkey and 2 ounces ricotta cheese. Broil until the cheese has melted, 2-3 minutes.
• Crackers with Probiotic Yogurt Cheese and Smoked Salmon
Evenly divide ½ slice Applegate Probiotic Yogurt Cheese, 4 oz. sliced smoked salmon, 2 tsp. chopped red onion, ground cumin, sea salt and pepper; place atop crackers.
• Figs and Sliced Melon Slice 2 figs in half, top with thinly sliced melon and a slice of Applegate Monterey Jack Cheese.
• Nori Herbed Turkey Wraps
Lay 2 pieces of nori seaweed on a flat surface, top with a slice of Applegate Herbed Turkey, Applegate Swiss Cheese, salsa, chili powder and thinly sliced zucchini. Wrap like a burrito.
• Chicken Fingers and Squash with Almond Butter Dip
Cut 1 yellow squash into thin slices. Cook Applegate Gluten-Free Chicken Nuggets according to package instructions. Serve alongside a fun dip made from a mixture of 1 cup of Greek plain yogurt, 1 tsp. ground cinnamon, 2 Tbsp. almond butter and ¼ tsp. pumpkin pie spice.
• White Bean Arugula Pesto with Chicken Strips
In a food processor, combine 4 cups arugula, 1 cup cannellini beans, 4 fresh basil leaves, 1 tsp. balsamic vinegar, sea salt and freshly ground pepper. Serve with Applegate Chicken Strips.
• Apple Parfait with Salted Pistachios and Maple Breakfast Sausage
Cook Applegate Maple Breakfast Sausage according to package instructions. Cut 2 apples into bite size pieces. Divide the apple and 1 ½ cups Greek plain yogurt among bowls. Sprinkle with ½ cup coarsely chopped salted roasted pistachios and 1 tsp. unsweetened coconut flakes. Serve sausages and apples with the Greek yogurt mixture.
• Crunchy Cashew Lime Broccoli with Turkey Burgers
Cook Applegate Organic Turkey Burger according to package instructions. Steam broccoli florets and toss with olive oil, chopped cilantro and a squeeze of lime. Sprinkle with toasted ground cashews. Serve with Turkey Burger.
• Savory Beef Burger Kale Wraps Cook Applegate Organic Beef Burger according to package instructions. Cut into ¼ inch strips. Lay a large kale leaf on a flat surface, top with beef burger strips, guacamole, Greek plain yogurt and salsa. Sprinkle with sesame seeds; wrap like a burrito.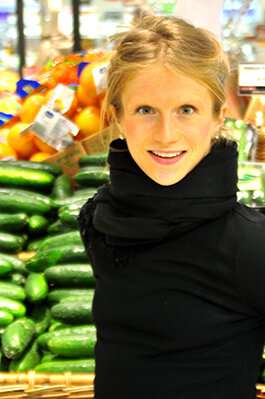 Amie Valpone
Amie Valpone, HHC, AADP is a Manhattan based Personal Chef, Culinary Nutritionist, Professional Recipe Developer and Food Writer specializing in simple Gluten-Free, Dairy-Free 'Clean' recipes for the home cook. She is the Editor-in-Chief of The Healthy Apple and the Publisher and Marketing Director of the online gluten-free magazine, Easy Eats. Follow Amie on Twitter @TheHealthyApple and on Facebook at The Healthy Apple //thehealthyapple.com