Simplify Your Holiday Spread with These Tips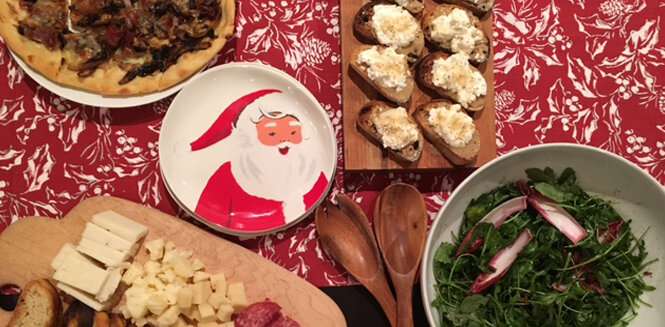 The holiday season is the best time to bring people together – a time to gather, show love and gratitude, and – of course - eat! Since this festive time can also be a busy one, I like to find ways to make things a bit more efficient and easy in the kitchen. That's why a big spread of food accompanied by some fun, sparkling beverages is our favorite way to entertain. I always make sure that we have a variety of items to please everyone who'll be coming by, as well as some fun alternatives stashed away in the fridge. For my most recent gathering, I put together the spread below using lots of my favorite Applegate products. Take a look:
Pull out a big wood cutting board and load it up with your favorite charcuterie: you can pile it on high with Applegate Sliced Soppressata , Applegate Prosciutto and your favorite cheeses like aged Parmesan, Gouda, Havarti and Cheddar. Accompany it with slices of toasted baguette and mixed nuts and your meat & cheese-loving guests will thank you! 
Pizza is always a crowd-pleaser but you can up the ante a bit when it comes to the holidays. Roll out your favorite dough (you can pick up pre-made dough from your local grocery store or pizzeria) and top it with caramelized onions, freshly grated Parmesan cheese, chunks of fresh mozzarella, and Applegate Prosciutto . Bake it at 500 degrees until crispy and top it off with a sprinkling of truffle salt. 
Everyone loves bruschetta! After slicing and toasting a baguette, top with toasted tahini spread, fresh ricotta, and a drizzle of honey. Season with salt and pepper to get the sweet and salty combination that your guests will crave. 
You definitely want to tack on a big salad to your menu and one that feels a bit more wintry. For this one, you can mix up arugula, endive and chopped dates, and top it with crumbled Applegate Sunday Bacon and your favorite vinaigrette. 
For drinks, you can set out bottles of sparkling mineral water and Prosecco accompanied with slices of ruby red grapefruit, pears, and oranges for a twist. Accompany this with a crockpot full of warm mulled cider to keep things cozy. 

Gina Gancheva
Gina Gancheva is a Brand Manager at Applegate and has happily been with the company since 2012. She focuses on all aspects of the brand, from campaigns to new product development, and is passionate about Applegate's mission of "Changing the Meat We Eat". She and her husband Andy have a daughter named Eleanor, who just turned 3. Until the fall, they were long-time residents of Jersey City, New Jersey, before making a big move out west to Denver, Colorado, which they now call home.