'Tis the Season to Bacon-Wrap Everything!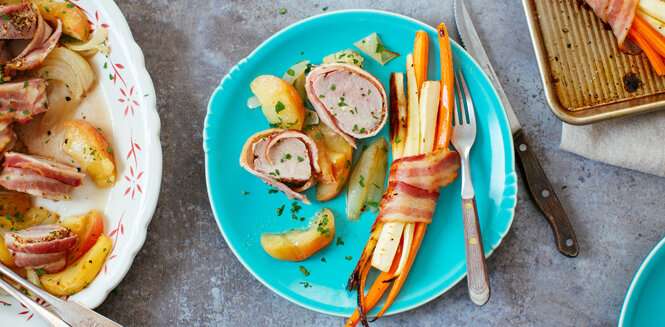 Is there anything that bacon doesn't make better? Wait, is that trick question? Here are some of our very favorite things to wrap in bacon.
Lean meats such as pork tenderloin , turkey breast and chicken take well to a bacon wrapping. It's best to cook the parcels in the oven, undisturbed—too much handling can make the bacon unravel.
Fish and shellfish also take beautifully to bacon. Scallops and shrimp cook quickly so par-cook the bacon for about 5 minutes before wrapping and finishing—the bacon will be crisp and the shellfish tender. Wrap meaty fillets of salmon and cod with bacon and roast slowly—the bacon will baste and season the fish as it cooks.
Wrapping individual portions of vegetables in bacon and roasting them makes for an appetizing bundle. Let the season be your guide: carrots and parsnips in the fall and winter, green and yellow squash in the summer and asparagus in the spring.
Fruit's sweetness always plays well against the salty nature of bacon. Fresh fruit like pineapple and figs are naturals, but so are whole baked apples—wrap a strip of bacon like a belt around peeled, cored apples (secure with toothpick if needed). Season with a little cinnamon and bake until tender. Serve with roast chicken or pork. Dried fruit also works well. Stuff dried dates with a little blue cheese or sneak an almond into a prune and wrap in bacon, roast and voila—instant appetizer.
Speaking of appetizers, there's no end to the little bites you can wrap in bacon—see all of our suggestions here.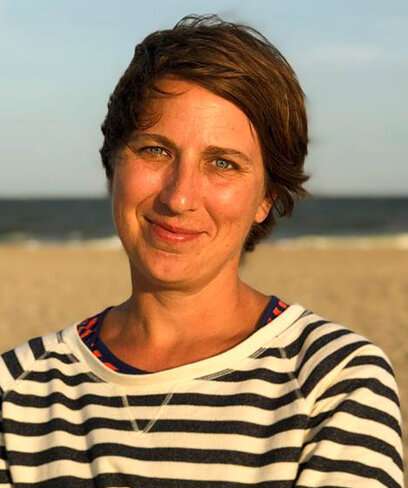 Kate Winslow
Kate Winslow is the author of Onions Etcetera: The Essential Allium Cookbook (Burgess Lea Press, 2017), as well as the co-author of The Agricola Cookbook and Coming Home to Sicily. A former editor at Gourmet magazine, Kate currently works with her husband Guy Ambrosino, a photographer, to test, develop and photograph recipes for cookbooks, magazines and, most fun of all, Applegate! Kate and Guy live along the Delaware River in New Jersey with their 12-year-old son, yellow lab and six chickens. Their work can be seen at kateandguy.com.