Bacon and Blue Cheese Harvest Salad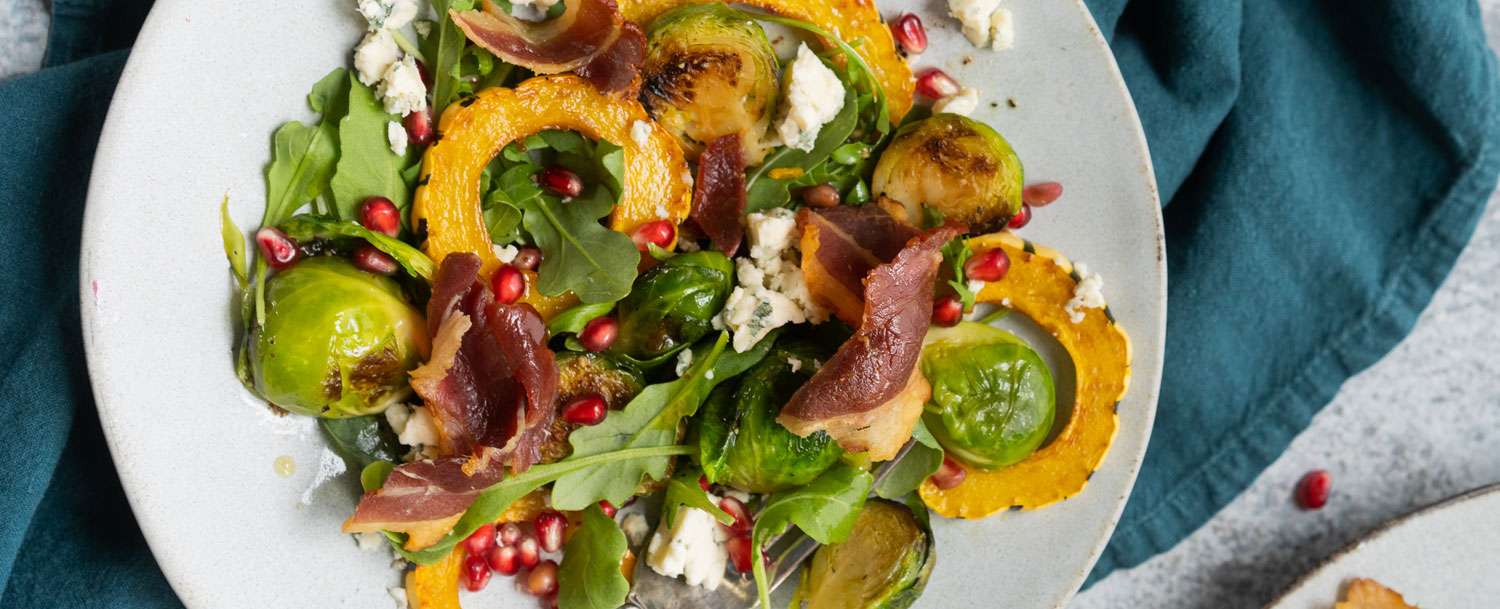 This colorful salad can be served as a side to roast chicken, pork or fish, but it's also hearty enough to be served on its own, with just some crusty bread to round out the meal.
Serves 4–6 | Total Time: Less Than 60 Mins
Ingredients
1 (8-ounce) package APPLEGATE NATURALS® SUNDAY BACON®
1 pound brussels sprouts
1 pound delicata squash
Kosher salt and freshly ground black pepper
3 Tbsp olive oil
1½ Tbsp apple cider vinegar
1 Tbsp maple syrup
1 tsp Dijon mustard
4 ounces baby arugula
1 cup pomegranate seeds
2 ounces Castello Danish Blue Cheese, crumbled
Instructions
Preheat the oven to 400°F.
Arrange the bacon on a large rimmed baking sheet and bake until browned and crisp, 12–15 minutes. Transfer bacon to a paper towel–lined plate to drain.
While bacon cooks, trim brussels sprouts and cut in half. Cut squash crosswise into ¼-inch-thick slices; trim away seeds. When bacon is done, arrange the brussels sprouts and squash slices on the baking sheet, tossing gently to coat in the bacon fat. Roast until vegetables are browned and tender, 18–20 minutes. Remove from the oven and season lightly with salt and pepper.
While vegetables roast, make the dressing. Combine the olive oil, vinegar, maple syrup, mustard, ½ tsp salt and ¼ tsp pepper in a glass jar. Seal and shake well to combine. Taste and adjust the seasonings if needed.
To serve, divide the arugula evenly among 4–6 plates. Top with the brussels sprouts and squash. Shake the dressing well then spoon some over each salad. Sprinkle pomegranate seeds and crumbled blue cheese over top. Break the bacon into large pieces and scatter over the salads. Serve at once.