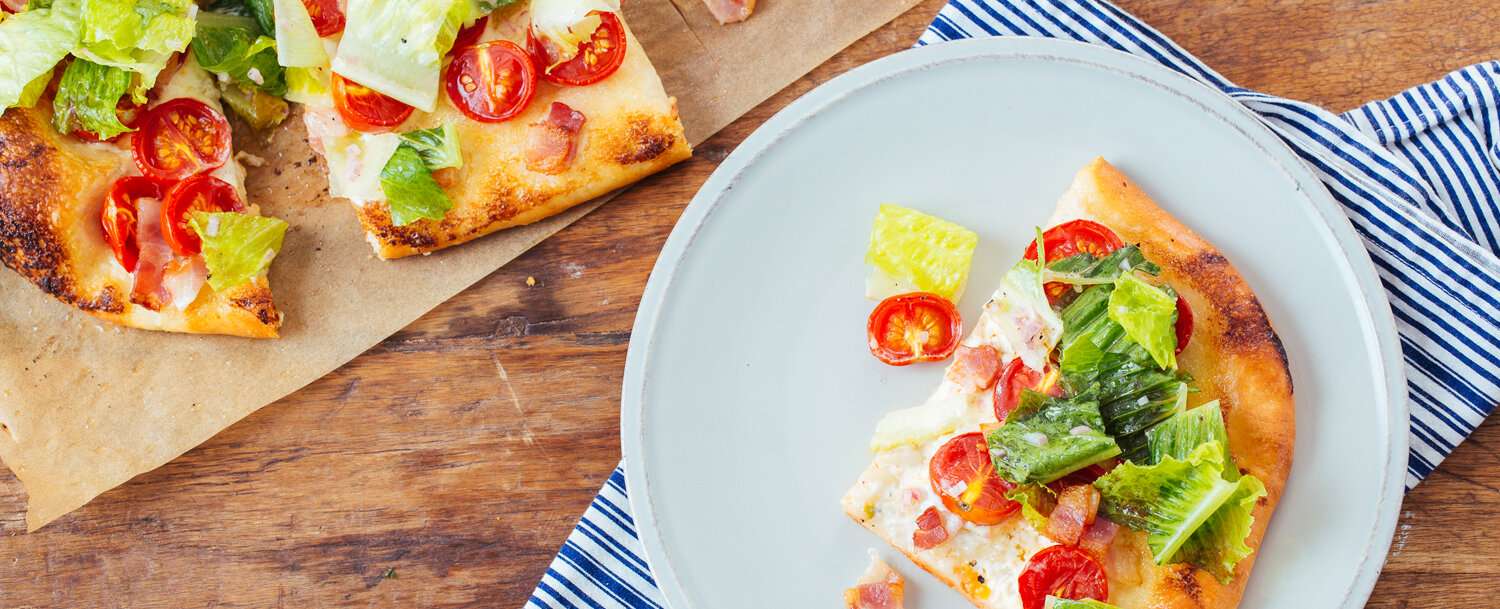 This colorful dish is an easy way to deliver the satisfying flavors of a classic BLT to a crowd. A sharply dressed salad scattered over top the warm pizza helps balance the richness of the bacon and mayonnaise.
Serves 6 | Total Time: Less Than 30 Mins
Ingredients
2 (1-pound) balls refrigerated pizza dough, at room temperature for 1 hour
6 tablespoons Sir Kensington's Mayonnaise
2 pints cherry tomatoes, halved
1 (8-ounce) package Applegate Naturals® Sunday Bacon® Brand, chopped into ½-inch pieces
1 small shallot, finely chopped
3 tablespoons extra-virgin olive oil
1 tablespoon white or red wine vinegar
Salt and pepper
1 head romaine lettuce, chopped into bite-sized pieces
Instructions
Preheat the oven to 500°F. Place 1 ball of dough on a sheet of parchment paper and roll out with a lightly oiled rolling pin into a large rectangle (about 12x18 inches). Transfer the dough, with the parchment, to a large baking sheet. Repeat with the remaining ball of dough and place on a second baking sheet.
Spread 3 tablespoons mayonnaise evenly over each pizza, leaving a ½-inch border around the edge. Scatter half of the tomatoes, cut side up, over each pizza. Scatter half of the bacon over each pizza. Bake the pizzas until the dough is golden brown and bacon is browned, switching their positions about halfway through, about 15 minutes total. Remove from the oven.
While the pizzas are baking, whisk together the chopped shallots, olive oil, vinegar, ¼ teaspoon salt and ¼ teaspoon pepper in a small bowl until well combined.
Just before the pizzas come out of the oven, pour the dressing over the lettuce and toss well.
Divide the salad evenly over the top of the 2 pizzas and cut into pieces. Serve at once.