Chicken-Stuffed Arepas with Plantains & Queso Fresco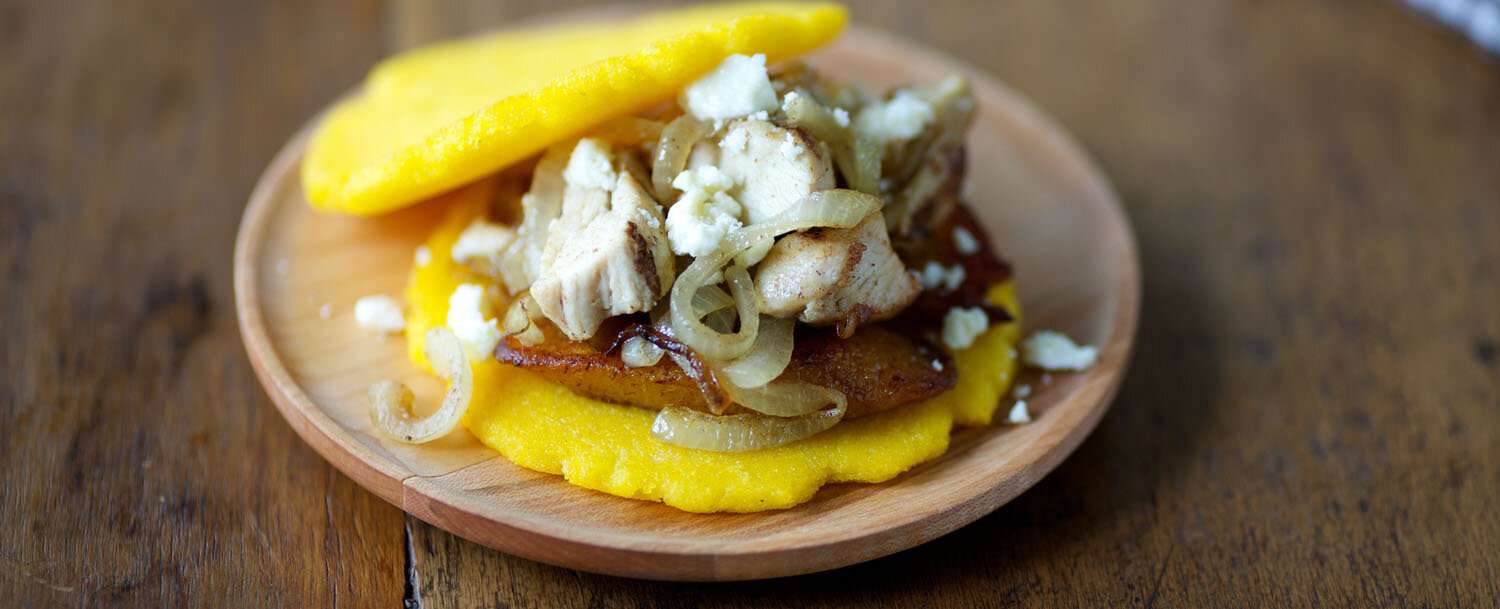 Popular throughout Colombia and Venezuela, arepas are grilled flatbreads made of corn flour that can be served plain or stuffed with beans, avocado, plantains, roast pork, or cheese. We like this combination of savory grilled chicken and queso fresco paired with sweet plantains. Arepas also make a tasty gluten-free alternative to wheat bread.
Makes 6 arepas | Total Time: Less Than 60 Mins
Ingredients
2 cups masarepa flour
1 teaspoon salt
3 cups warm water
6 tablespoons olive oil, divided
1 small onion
1 teaspoon ground cumin
Juice of ½ fresh lime
Salt and pepper
2 cups sliced frozen plantains (about ½ of an 11-ounce box)
3 ounces queso fresco, crumbled
Instructions
Stir together the masarepa flour, salt, and water until a soft dough forms.
Divide the dough into 12 equal-sized balls.
Flatten each ball between two sheets of wax paper; the resulting discs should be about 4 inches wide and ½-inch thick.
Heat 1 tablespoon oil in a heavy skillet over medium-low heat.
Cook the arepas in batches until underside is bright golden, 3–4 minutes.
Flip and cook for another 3–4 minutes.
Remove from heat and keep warm, loosely covered.
Continue to cook remaining arepas, using another 1 tablespoon oil per batch.
While arepas are cooking, heat the remaining 2 tablespoons of oil in another heavy skillet over medium-high heat.
Add the onion and cumin and cook, stirring occasionally, until golden and softened, about 10 minutes.
Add the chicken breast strips and cook until warmed.
Stir in the lime juice and season to taste with salt and pepper.
Meanwhile, preheat oven to 375°F. Line a baking sheet with aluminum foil.
Spread plantains on foil-lined baking sheet and bake until hot, 5 to 10 minutes.
To assemble, divide the plantains between six of the arepas, top with the chicken and onion mixture, and garnish with the crumbled queso fresco.
Top with the remaining arepas and serve immediately.