Colorful Breakfast Sausage Casserole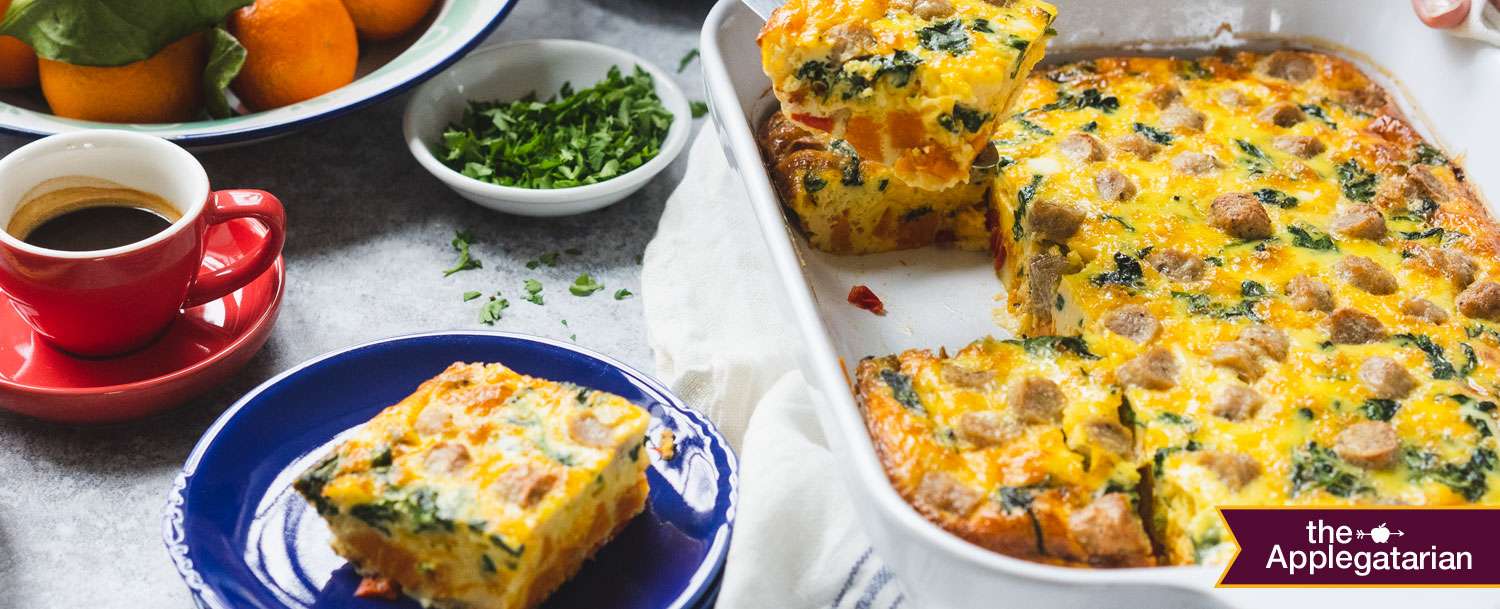 Making eggs for a crowd is a cinch when you bake them in a casserole with plenty of veggies and meaty sausage. And everything can be prepped the night before and refrigerated, ready to be popped in the oven first thing in the morning.
As Featured in The Applegatarian.
Serves 6-8 | Total Time: Less Than 60 Mins
Ingredients
2 Tbsp. extra-virgin olive oil, divided
1 large red bell pepper, diced
Kosher salt and freshly ground black pepper
1 large sweet potato, peeled and diced
2 cups shredded sharp cheddar cheese
1 (5-oz) container baby spinach
1 (7-oz) package APPLEGATE NATURALS® No Sugar Original Pork Breakfast Sausage
12 large eggs
1 cup heavy cream
Instructions
Preheat the oven to 375°F. 
Lightly oil a 13 x 9-inch baking dish. Heat 1 Tbsp. olive oil in a heavy skillet over moderately high heat. Add diced bell pepper and cook, stirring frequently, until just tender, about 3 minutes. Season lightly with salt and pepper. Spread cooked pepper evenly over the bottom of the baking dish.
Add the remaining 1 Tbsp. oil to the skillet and cook the sweet potato over moderately high heat, stirring frequently, until tender, about 10 minutes. Season lightly with salt and pepper. Spread cooked sweet potato evenly over the bell pepper. Sprinkle the cheese evenly over top.
Add the baby spinach and 1 Tbsp. of water to the skillet and cook, tossing constantly, until the spinach is wilted, 1-2 minutes. Once cooked, remove from the heat and drain well in a colander, pressing lightly with a spatula to remove excess water. Scatter spinach over the cheese.
Scatter chopped breakfast sausage over the spinach.
Whisk together the eggs and cream until smooth and very well combined. Season lightly with salt and pepper. Pour egg mixture evenly over the sausage and vegetables, while tilting the dish as needed to make sure eggs are evenly distributed.
Bake until the casserole is puffed, golden and eggs are just set, about 35 minutes. Remove from the oven and let sit for a few minutes before cutting into squares and serving.

NOTE: Casserole can be assembled (but not baked) up to 1 day in advance. Cover tightly and refrigerate until ready to bake.