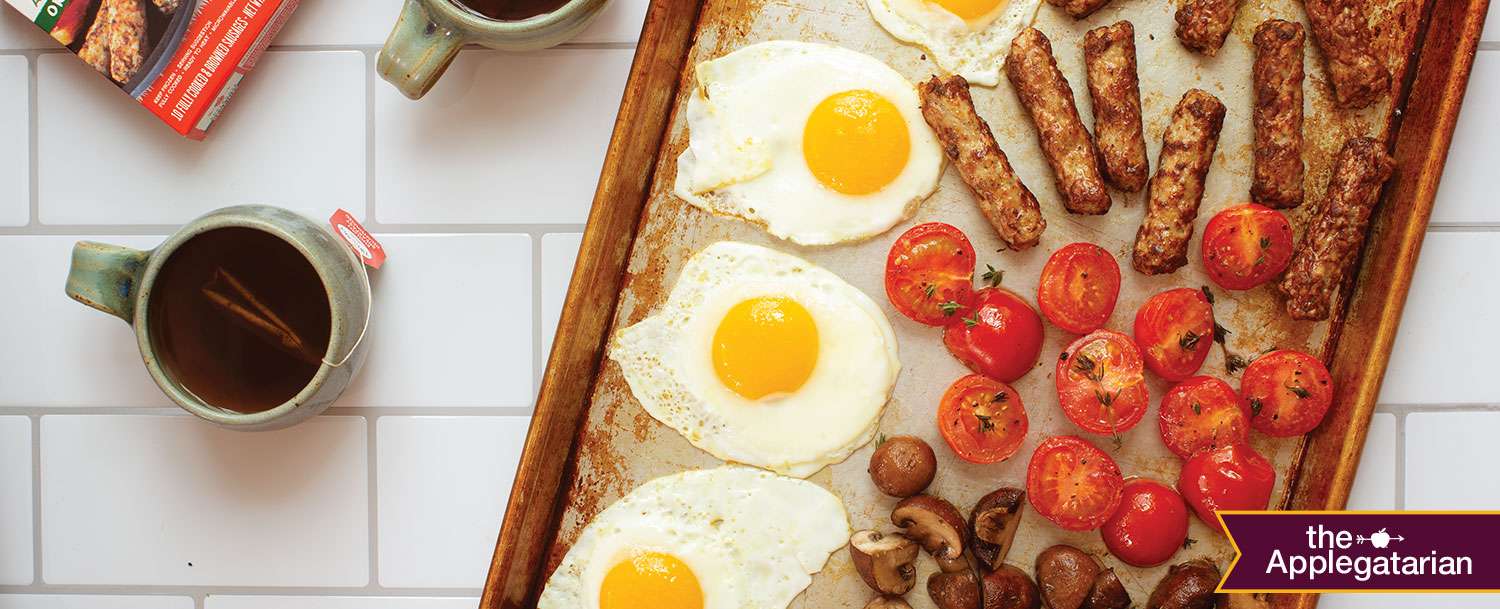 As featured in The Applegatarian.
Though we normally love just serving everything on a sheet pan, in this case, you may want to transfer the eggs to plates as soon as they come out of the oven, to keep them from continuing to cook on the hot pan. If you want to make the experience extra authentic, serve this with some baked beans.
Serves 4-6 | Total Time: Less Than 30 Mins
Ingredients
10 ounces baby bella mushrooms, trimmed and halved
6 to 8 small plum or cocktail tomatoes, halved lengthwise
3 fresh thyme sprigs
2 tablespoons olive oil, divided
Kosher salt and freshly ground black pepper
1 (7-ounce) package APPLEGATE NATURALS® Chicken & Apple Breakfast Sausage
4 to 6 large eggs
Instructions
Preheat the oven to 425°F.
Combine the mushrooms, tomatoes, and thyme sprigs on the baking sheet and drizzle with 1 tablespoon olive oil. Season with salt and pepper and toss gently to combine, then spread out on the baking sheet. Add the sausages to the pan. Roast until everything is browned and crisp, 15 to 20 minutes.
Remove the pan from the oven and use a spatula to push the vegetables and sausages to one end of
the pan. Drizzle the remaining tablespoon olive oil in the cleared space and crack the eggs into the pan. Season with salt and pepper.
Return the baking sheet to the oven and roast until the egg whites are set and the yolks are cooked to your desired doneness, 3 to 6 minutes.
Remove the baking sheet from the oven and serve immediately.