Sausage Soup with Real Egg Noodles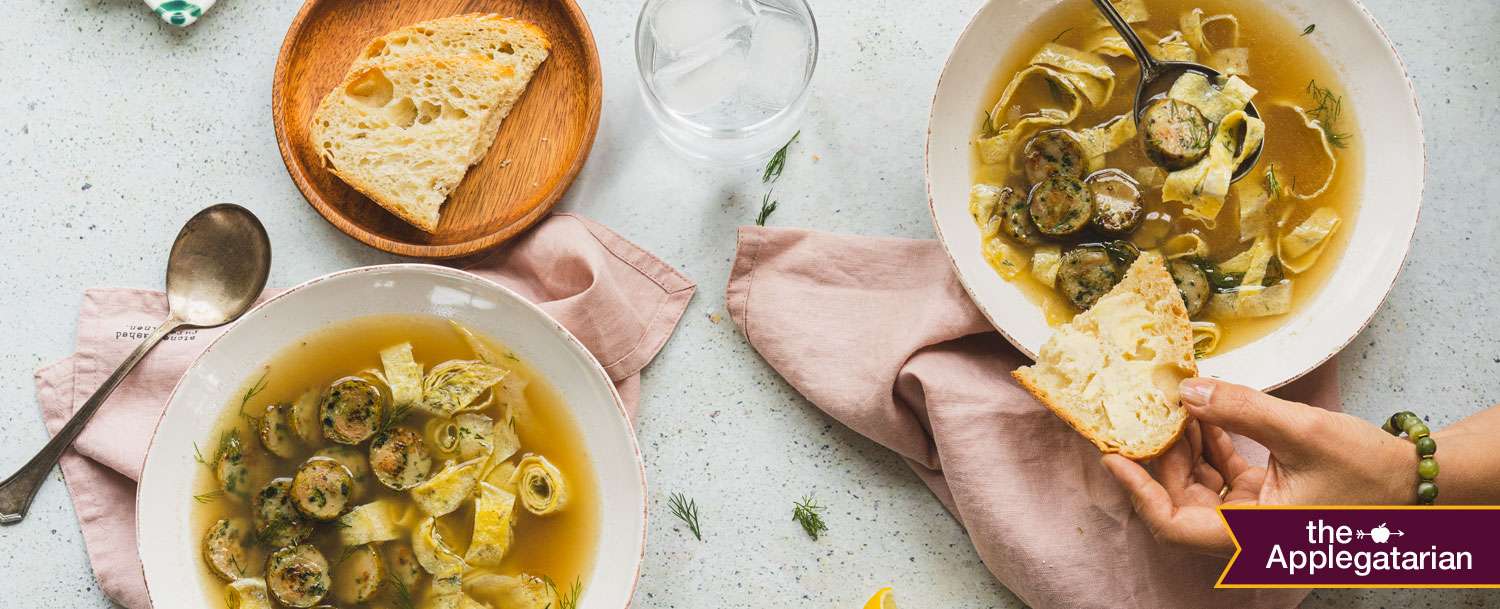 This protein-rich soup is perfect for one of those blustery spring days when the sun is in hiding and you need something to warm your soul. The fresh egg noodles—simply very thin omelets cut into ribbons—couldn't be easier to make. Because there are so few ingredients, be sure to use the best broth you can. It will make all the difference.
As Featured in The Applegatarian.
Serves 4-6 | Total Time: Less Than 30 Mins
Instructions
Whisk together the eggs, dill and salt in a bowl or measuring cup, until smooth and fully combined. Spray a nonstick skillet with cooking spray and heat over moderate heat. Pour in a small amount of egg mixture, swirling the hot skillet to coat the bottom with a very thin layer of egg; pour any excess back into the bowl. Cook, without touching the eggs, until set and cooked through, less than 1 minute. Transfer omelet to a plate. Repeat with the remaining egg mixture, spraying the skillet as needed between batches. You should be able to make 6-8 very thin omelets. Cover to keep warm.
Meanwhile, heat the chicken stock until very hot. Season to taste.
Heat olive oil in a skillet over moderately high heat. Add the sausage rounds and cook, stirring occasionally, until browned and heated through, 5-8 minutes. Divide sausage evenly among warmed soup bowls.
To make noodles, stack the omelets and roll into a log. Using a sharp knife, cut the log crosswise into thin ribbons. Gently separate the noodles and divide among the bowls. Ladle hot chicken broth over the noodles and sausage. Serve at once with lemon wedges on the side.