Kale, Potato and Bacon Pizza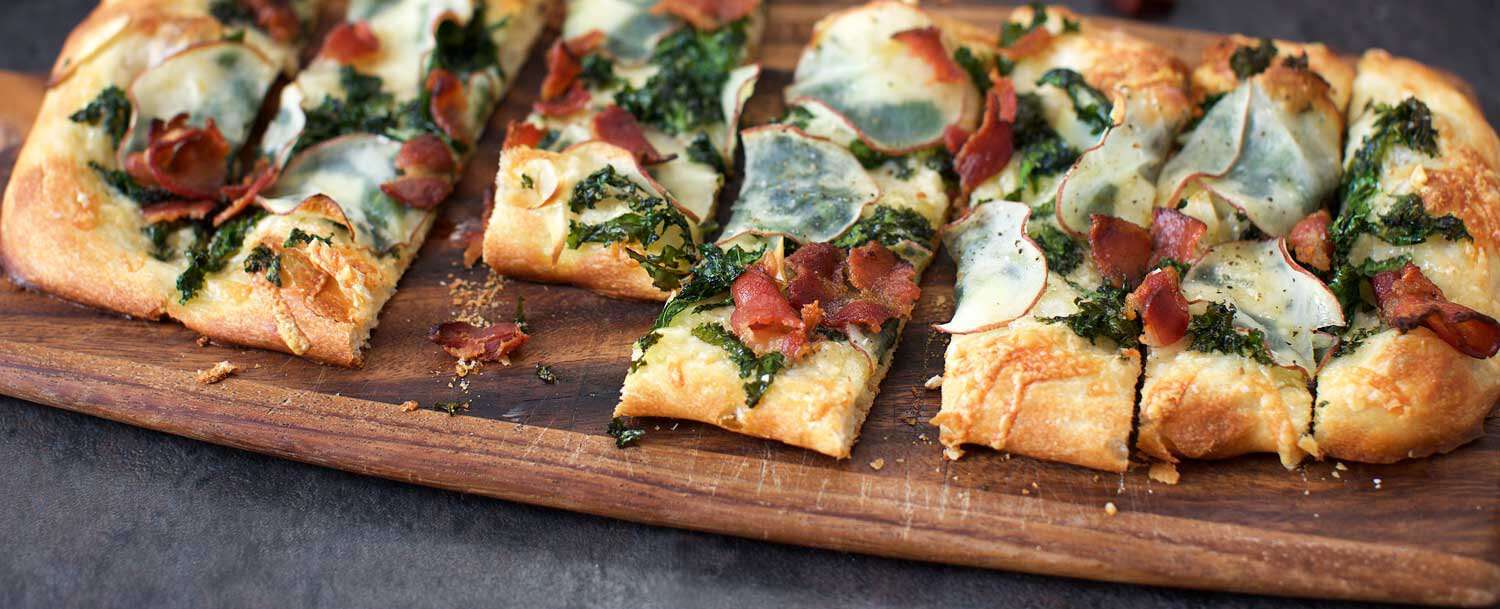 No one will miss the tomato sauce with this vibrant pizza topped with thinly sliced potatoes, fresh kale and plenty of salty bacon. Cut into small pieces, this one makes a delightful appetizer.
Serves 4 | Total Time: Less Than 60 Mins
Ingredients
Kosher salt and freshly ground black pepper
1 medium or 2 small potatoes, very thinly sliced (preferably on a mandoline)
2 large kale leaves
2 cloves garlic, very thinly sliced
2 tablespoons olive oil
1 pound pizza dough
1 cup shredded Gruyère cheese
Instructions
Preheat the oven to 475°F. 
Cook the bacon in a heavy skillet until almost crisp. Remove from the heat and drain on paper towels. Tear the bacon into large pieces.
Meanwhile, dissolve ½ teaspoon salt in a small bowl of warm water. Add the potatoes and let sit while you prepare the rest of the ingredients.
Remove the ribs from the kale leaves and discard. Chop the leaves and toss with the garlic, 1 tablespoon olive oil, ½ teaspoon salt and ¼ teaspoon pepper. Set aside. 
If making one large pizza, stretch the dough to fit a large rimmed baking sheet. If making 2 pizzas, divide the dough in half and shape as desired. Sprinkle the cheese over the dough. Scatter the kale and garlic over the cheese. Drain the potatoes and pat dry. Arrange the potatoes over the pizza, drizzle with the remaining 1 tablespoon olive oil and season lightly with salt and pepper. Scatter the bacon over the pizza. 
Bake the pizza until golden brown and bubbling, about 15 minutes for 1 large pizza, 10–12 minutes for 2 smaller pizzas. Remove from the oven, slice and serve.