Lemony Zoodles with Spinach, Peas and Turkey Bacon
Lots of greens and savory turkey bacon make for a speedy, satisfying supper. Placing the zucchini noodles on top of the "sauce" keeps them from getting soggy.
Served 2-3 | Total Time: Less Than 30 Mins
Ingredients
1 (8-ounce) package Applegate Naturals Turkey Bacon, chopped
2 tablespoons olive oil, divided
1 (5-ounce) package baby spinach
1½ cups frozen peas, defrosted
Kosher salt and freshly ground black pepper
12 ounces zucchini noodles
Juice of ½ lemon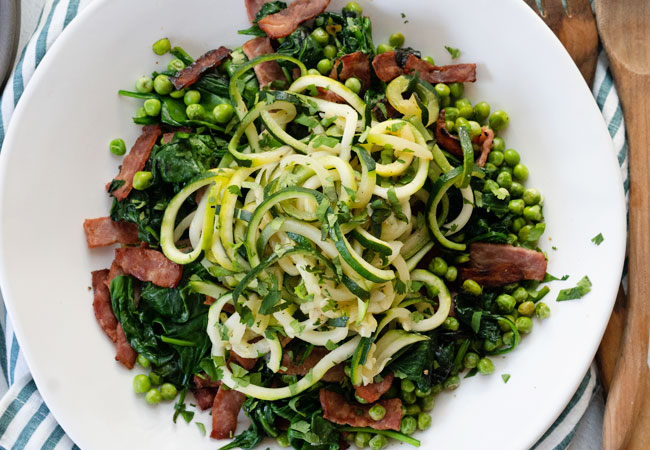 Instructions
In a large sauté pan over moderately high heat, cook the bacon in 1 tablespoon olive oil, stirring occasionally, until browned, 5–8 minutes. Add the spinach and cook, stirring, until beginning to wilt. Add the peas and cook until heated through and spinach is fully wilted, about 3 minutes. Season to taste with salt and pepper. Transfer mixture to a serving platter or bowl.
Return the pan to the stove and add the remaining 1 tablespoon olive oil. Add the zucchini noodles and cook over moderately high heat, stirring gently, until crisp tender, about 3 minutes. Squeeze the lemon juice over the noodles and season with salt and pepper. Use tongs to mound the noodles over the spinach mixture. Serve at once.