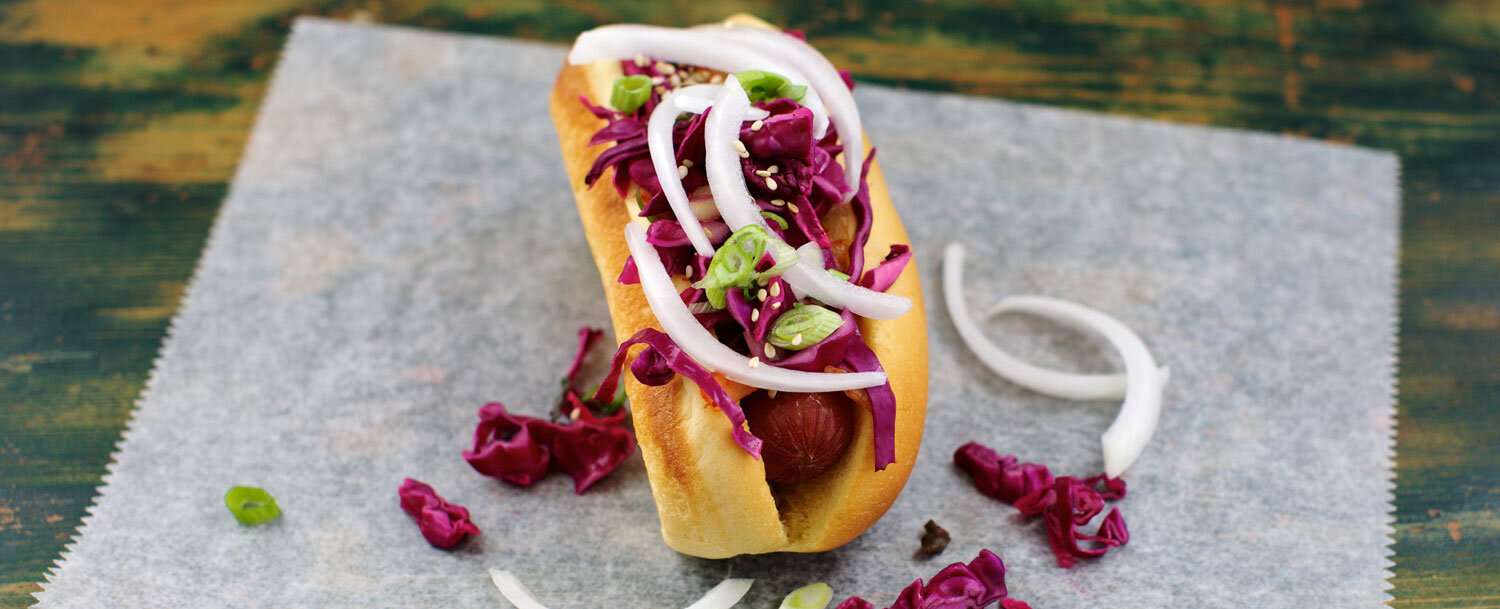 Los Angeles Dog: Red Cabbage & Scallion Slaw, Kimchi & Sesame Mayo
Based on the now-famous Kogi Dog from the original Kogi food truck in L.A., this hot dog positively explodes with flavors and textures—fiery, tangy, creamy, crisp, nutty. A squirt of Sriracha sauce makes a nice addition.
Makes 8 | Total Time: Less Than 30 Mins
Ingredients
Hot Dogs
1 package hot dog buns, toasted
1 cup kimchi
1 small white onion, thinly sliced
Sriracha sauce, optional
Red Cabbage and Scallion Slaw
2 cups finely shredded red cabbage
2 scallions, finely chopped
Juice of ½ lime
Salt and pepper
Sesame Mayo
3 tablespoons sesame seeds, toasted
1/2 cup mayonnaise
Instructions
Hot Dogs
Grill the hot dogs to desired doneness.
Spread each toasted hot dog bun with some of the sesame mayonnaise.
Add the hot dogs, then top with some of the kim chi, red cabbage slaw, and sliced onions.
Garnish with the reserved toasted sesame seeds.
Red Cabbage and Scallion Slaw
Toss the cabbage, scallions and lime juice together in a large mixing bowl.
Season to taste with salt and pepper.
Sesame Mayo
Put 1 tablespoon of the toasted sesame seeds in a mortar (reserve the remaining seeds for garnish) and pound with a pestle until crushed.
Transfer to a small bowl and stir in the mayonnaise.