Mashed Sweet Potatoes with Maple Prosciutto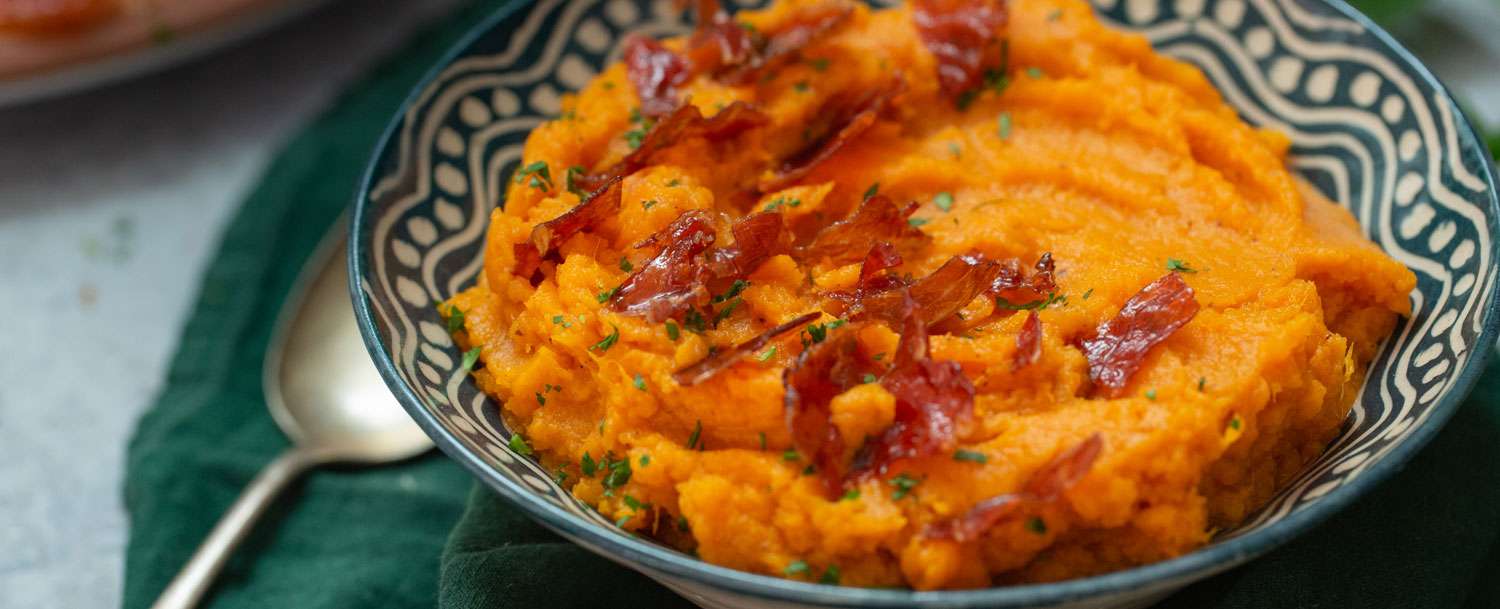 This recipe is simplicity itself: sweet potatoes roasted until their natural sugars reach their peak then mashed with a swirl of browned butter. A garnish of candied prosciutto plays up both those sweet and savory notes. The maple prosciutto on its own makes a wonderful addition to the brunch table, too!
Serves 6–8 | Total Time: More Than 60 Mins
Ingredients
4 pounds sweet potatoes
8 Tbsp unsalted butter, cut into pieces
Kosher salt and freshly ground black pepper
1 (3-oz) package APPLEGATE NATURALS® Prosciutto
2 Tbsp maple syrup
Chopped parsley, for garnish
Instructions
Preheat the oven to 350°F.
Wrap each sweet potato tightly in foil and arrange on a baking sheet. Roast until completely soft when poked with the tip of a sharp knife, 1½ –2 hours. Remove from the oven and let sit until cool enough to handle.
Meanwhile, melt the butter in a small saucepan over moderate heat and cook, stirring constantly, until foam subsides and milk solids in the bottom of the pan are nutty brown and fragrant, 5–8 minutes. Don't walk away from the pan as the butter can go from browned to burned very quickly. Remove from heat and immediately pour butter into a large mixing bowl, making sure to scrape out all the browned bits.
Peel cooled sweet potatoes and add to the bowl of butter. Mash with a potato masher or beat with a mixer until smooth. Season to taste with salt and pepper.
Meanwhile, line a baking sheet with parchment paper and arrange the prosciutto slices on the sheet. Brush the maple syrup evenly over the prosciutto slices. Bake until shiny and crisp, about 15 minutes. Remove from the oven and let cool (prosciutto will crisp more as it cools). Break or chop prosciutto into bite-sized pieces.
To serve, transfer mashed sweet potatoes to a serving bowl and top with prosciutto pieces and chopped parsley.
Note: Mashed sweet potatoes can be made up to 3 days ahead and refrigerated in an airtight container. Reheat gently before topping with prosciutto and parsley.