Minestrone with Turkey Bacon and Herb Swirl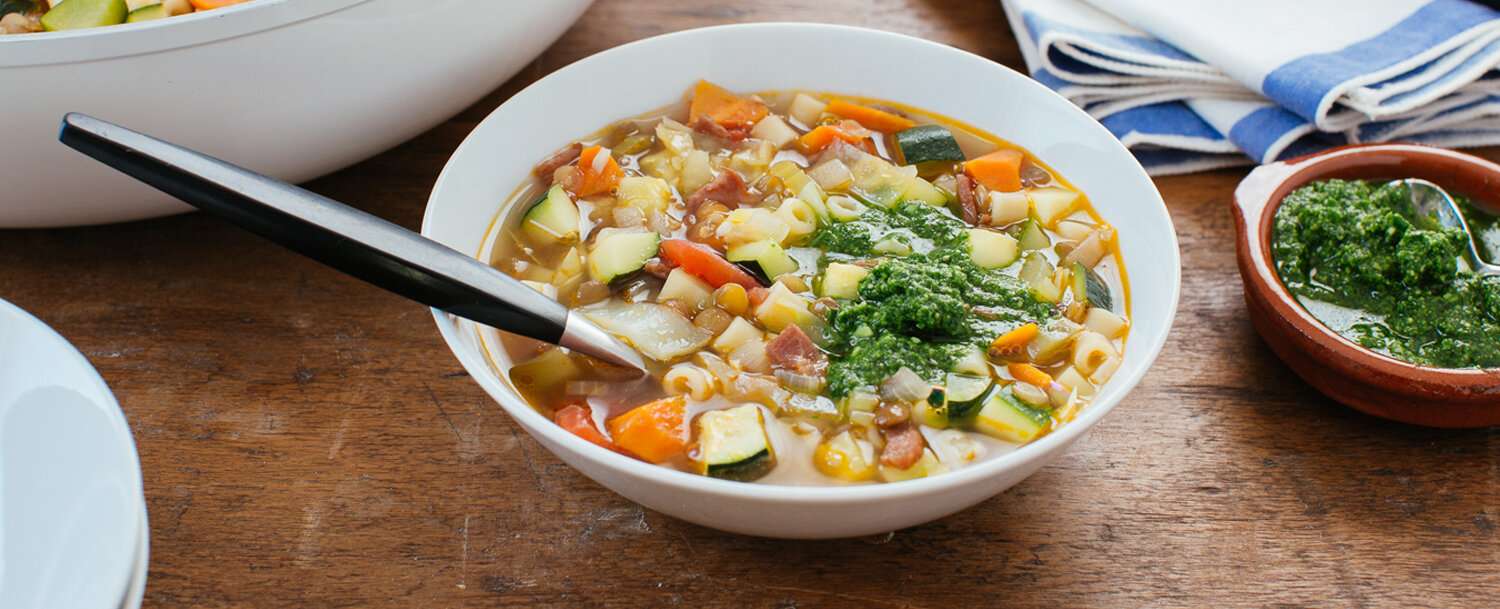 Chock-full of vegetables, speckled with savory turkey bacon and brightened with a verdant dollop of basil and parsley puree, this minestrone satisfies on so many levels. We like to cook the pasta separately from the soup, but if you like a thicker minestrone, add the dried pasta to the soup once the lentils are tender.
Serves 4 to 6 | Total Time: Less Than 60 Mins
Ingredients
For the soup:
2 tablespoons olive oil
1 (8-ounce) package Applegate Naturals® Turkey Bacon, chopped
3 carrots, chopped
2 celery ribs, chopped
1 onion, chopped
2 garlic cloves, finely chopped
Salt and freshly ground black pepper
¼ small green cabbage, cored and chopped
1 (14-ounce) can diced tomatoes
1 cup lentils
8 cups water
1 cup ditalini or macaroni
2 small zucchini, chopped
For the herb swirl:
1 cup fresh basil leaves
½ cup fresh parsley leaves
2 tablespoons grated Parmesan cheese
3 tablespoons olive oil
Instructions
To make the soup:
Heat the olive oil in a large soup pot over medium-high heat. Add the chopped bacon and cook, stirring occasionally, until browned, 8 to 10 minutes.
Add the carrots, celery, onions and garlic and cook, stirring occasionally, until softened, 8 to 10 minutes. Season with salt and pepper.
Add cabbage, tomatoes, lentils and water and bring to a simmer. Reduce heat and simmer gently until lentils are soft, about 30 minutes.
Meanwhile, cook the ditalini in a small pot of salted boiling water until al dente. Drain and set aside.
When the lentils are soft, add the zucchini and simmer until tender, 8 to 10 minutes. Stir in the cooked ditalini, season to taste with salt and pepper and serve with the herb swirl on the side.
To make the herb swirl: 
Combine the herbs, Parmesan and olive oil in a small food processor or blender. (Alternatively, use an immersion blender.) 
Blend until smooth