Pasta with Grilled Chicken and Slow-Roasted Cherry Tomatoes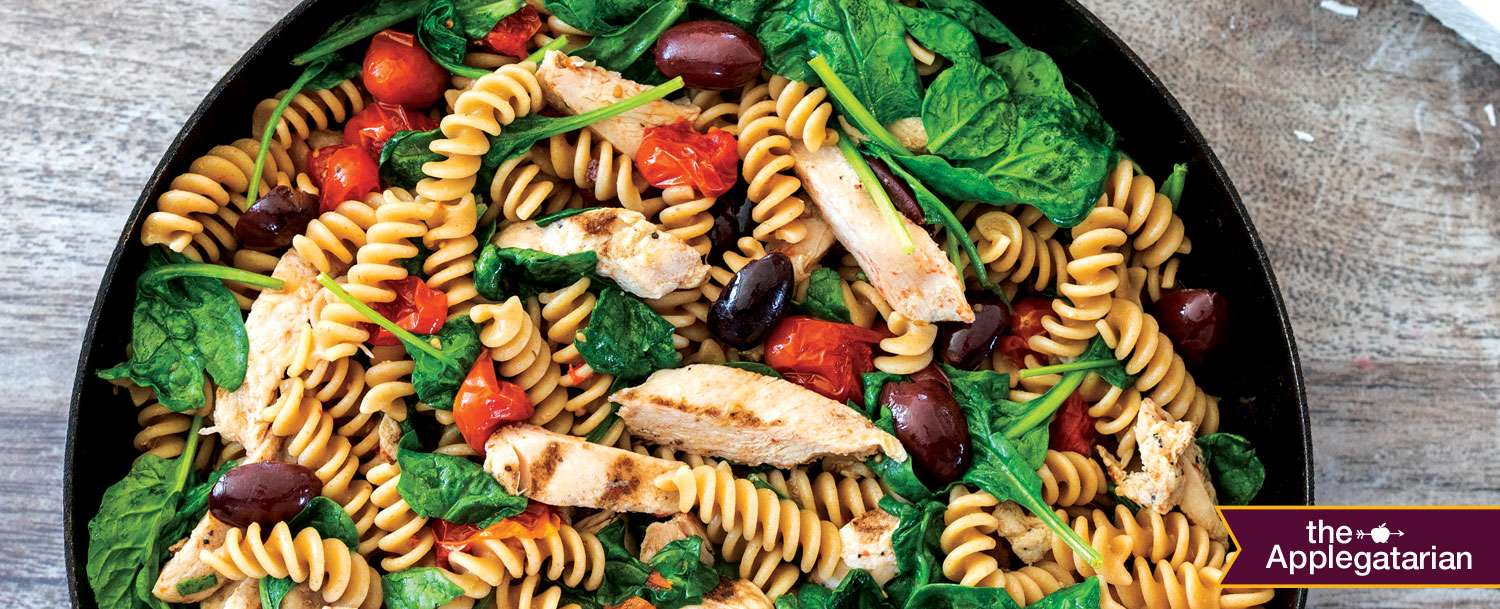 Total Time: Less Than 15 Mins
Instructions
Cook the pasta in a large pot of boiling salted water until al dente.
Meanwhile, gently heat the tomatoes and chicken strips in a large skillet over moderate heat.
When the pasta is ready, drain it (reserving 1 cup cooking water) and add to the skillet. Add the olives and spinach and toss gently to combine, adding some of the pasta water if the mixture looks dry. Cook just until spinach is wilted and everything is heated through, about 3 minutes.
Remove from the heat. Serve with ricotta salata.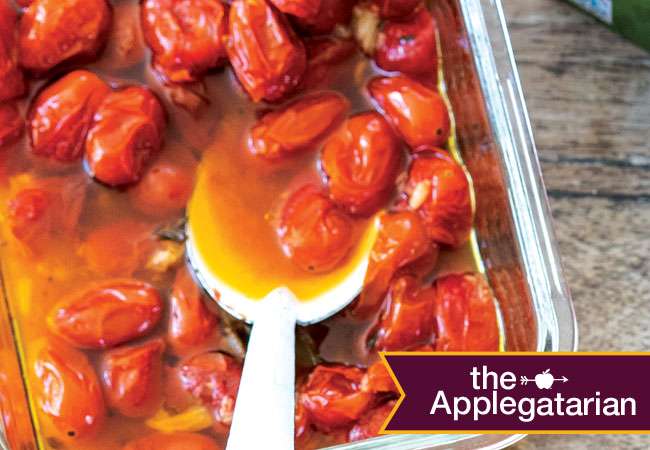 Slow-Roasted Cherry Tomatoes
These flavor bombs are a fridge must-have. Rely on them for a quick pasta sauce or the base for a speedy shakshuka. Smash them on toast, top with a little Parm and run under the broiler for an easy appetizer. Serve with roast chicken, pork chops or fish. Stir a scoop into beans... the list goes on and on.
Ingredients
1½ pounds cherry tomatoes
½ cup olive oil
4 garlic cloves, unpeeled and halved crosswise
Small handful of fresh herbs, such as thyme, oregano, rosemary and/or bay leaves 
Kosher salt and freshly ground black pepper
1 tablespoon red wine vinegar
Instructions
Preheat the oven to 350°F.
Combine the tomatoes, olive oil, garlic, herbs,½ teaspoon salt and½ teaspoon pepper in a shallow baking dish and toss well.
Bake, stirring once, until tomatoes are collapsed and juicy, about 40 minutes. Remove from the oven. When cool enough to handle, remove and discard the garlic skins and any tough herb stems. Use a fork to mash the garlic into the oily juices. Add the vinegar and stir gently to combine.
Let cool completely then refrigerate, up to 1 week. Bring to room temperature before using or serving.