Prosciutto Wrapped Scallops with Blood Orange Beurre Blanc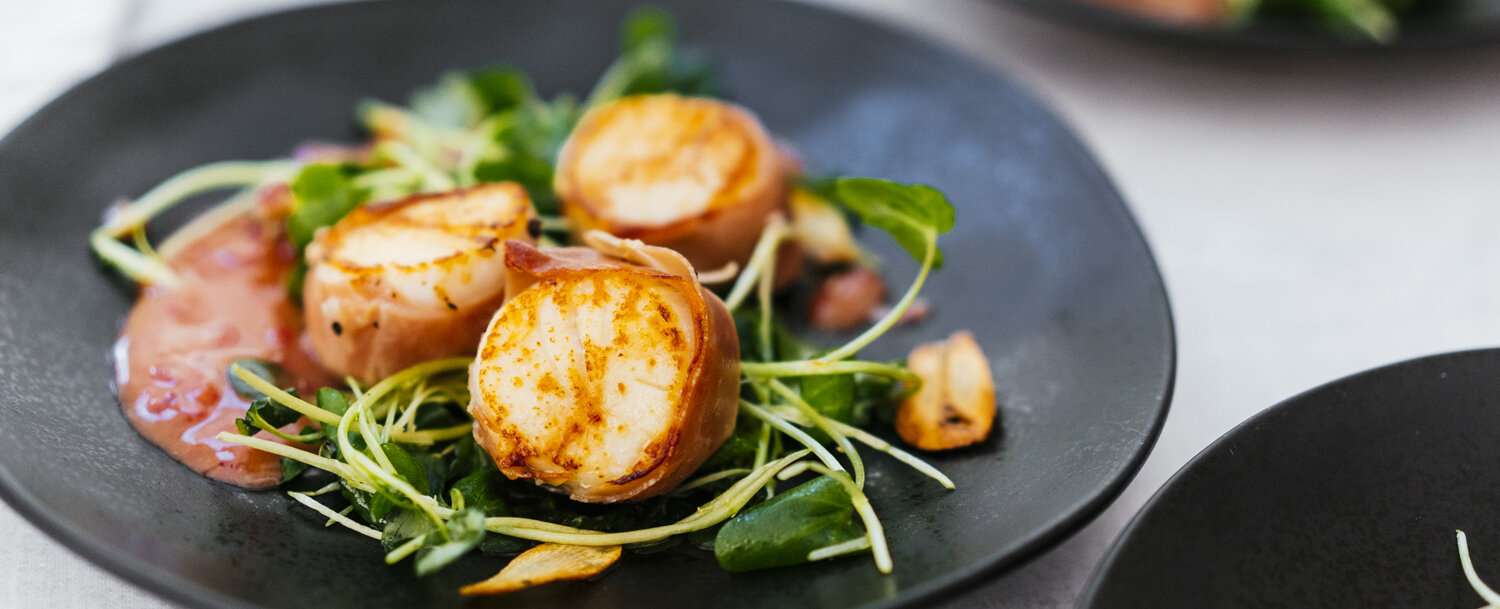 A light but very flavorful appetizer that could also be served as an entrée.
6 servings | Total Time: Less Than 30 Mins
Ingredients
For the Blood Orange Butter Beurre Blanc Sauce:
2 blood oranges, juiced and zested
½ cup white wine
2 teaspoons finely diced shallots
2 sticks unsalted butter
Salt and pepper
For the Garlicky Watercress:
1 teaspoon oil
2 bunches watercress, leaves picked
3 tablespoons thinly sliced garlic
Instructions
Wrap ¼ slice of prosciutto around the sides of each scallop. Do not cover the top or bottom of the scallops. Use a toothpick to hold the prosciutto in place.
Zest one orange and juice the two oranges.
Put the juice, zest, wine and shallots in a sauce pan over medium high heat.
Cook until syrupy and almost gone.
On low heat, whisk in the butter continuously and vigorously, 1 tablespoon at a time. Season with salt and pepper to taste.
Heat oil in a large non-stick skillet over medium heat. Add garlic. Cook, stirring, until lightly browned, about 4 minutes. Add watercress. Cook, stirring, until barely wilted, about 60 to 90 seconds. Season with salt to taste.
In a large sauté pan, add half of the wrapped scallops and cook about 3 minutes each side, being careful not to crowd the pan, until they are browned and slightly firm. Cool the remaining scallops in the same manner. Transfer to plate and remove toothpicks.
Serve the scallops over the watercress and drizzle with the blood orange beurre blanc sauce.