Sausage and Veggie Sheetpan with Salsa Verde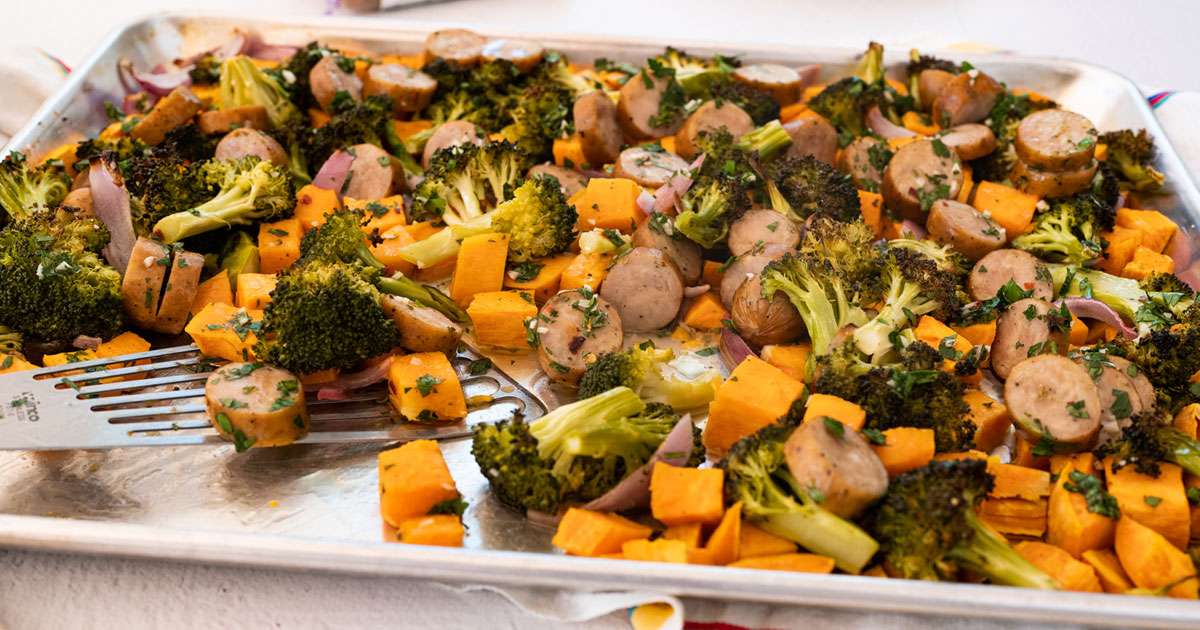 This easy sheet pan dinner abounds with colorful sweet potatoes, broccoli, red onion and Italian sausage. A quick lemony parsley sauce brightens everything up.
Total Time: Less Than 15 Mins
Ingredients
2 medium sweet potatoes, peeled and cut into 1-inch chunks
2 broccoli crowns, cut into florets
1 small red onion, halved and sliced
⅓ cup plus 2 tablespoons olive oil, divided
Kosher salt and freshly ground black pepper
1 (12-ounce) package Applegate® Sweet Italian Dinner Sausages, sliced
½ cup chopped fresh parsley leaves
1 garlic clove, finely chopped
2 tablespoons fresh lemon juice
¼ teaspoon crushed red pepper flakes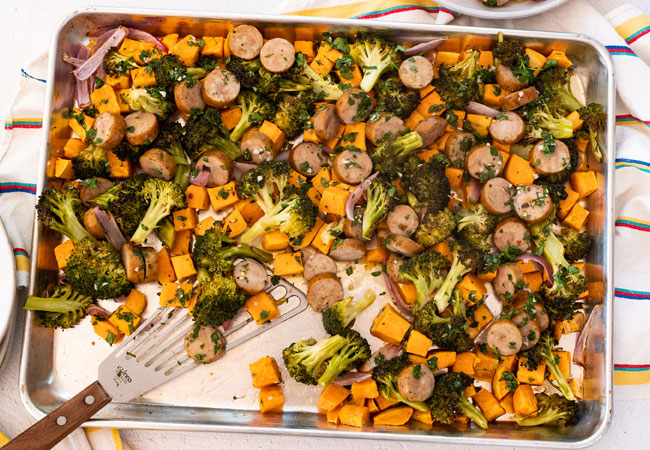 Instructions
Preheat the oven to 375ºF.
Place the sweet potatoes, broccoli and onion on a large sheet pan and drizzle with 2 tablespoons olive oil. Sprinkle with ½ teaspoon salt and ½ teaspoon pepper. Toss well to combine. Place in the oven and bake until vegetables are almost tender, about 25 minutes.
Meanwhile, in a small bowl, combine the parsley, garlic, lemon juice, red pepper flakes, remaining ⅓ cup olive oil and ½ teaspoon salt. Stir well to combine. Taste and adjust the seasonings.
Remove the sheet pan from the oven and scatter the sausage rounds over the vegetables. Continue baking until vegetables are tender and sausages are heated through, 12–15 minutes.
Spoon salsa verde over the sausages and vegetables and serve at once.