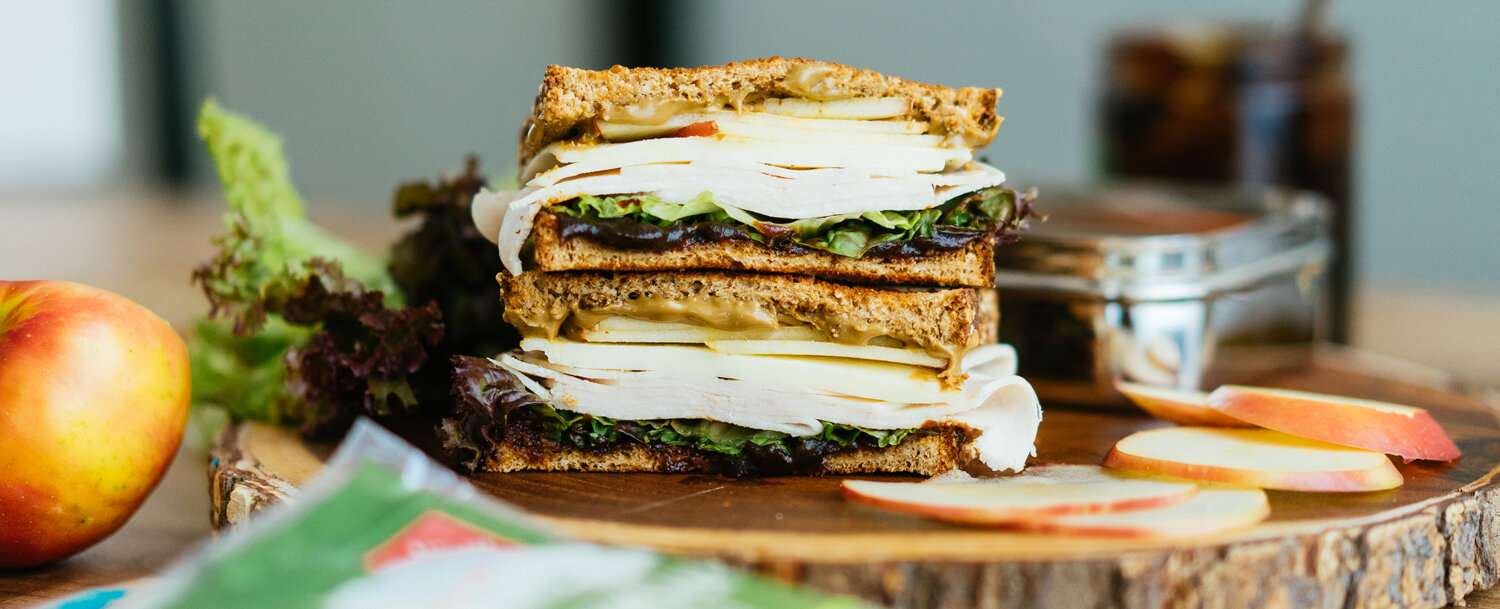 Oven roasted turkey, apple butter, red oak leaf lettuce, muenster cheese, sunflower seed butter, whole wheat toast come together to make a sandwich you'll want to gobble right up!
Makes 2 sandwiches | Total Time: Less Than 30 Mins
Ingredients
To Assemble:
4 each slices of hearty wheat bread
2 each Slices Applegate Organics® Muenster Cheese
4-6 each leaves of red oak leaf lettuce
4-6 each thin slices of fresh apple
2 tbsp Apple Butter (you can make your own or purchase) see below*
2-3 tbsp Sunflower seed butter
*Apple Butter:
2 pounds Gala Apples
2 pounds honey crisp apples
2 cups apple cider
3/4 cup light brown sugar
2 tbsp honey
1 tbsp fresh lemon juice
½ tsp vanilla extract
½ tsp salt
1 tsp ground cinnamon
¼ tsp ground curry
Instructions
To Assemble:
Toast the whole wheat bread either using a toaster or a toaster oven until desired doneness.
In making one or more sandwiches place the bottom and top slice(s) on a cutting board and spread the apple butter on each bottom slice.
Next place lettuce leaves on the bottom slice of the sandwich(es). Then place the turkey, crack some fresh pepper, the cheese, then the apple slices. Next on the top slice spread the sunflower seed butter.
Top the sandwich with the other slice of toast with the sunflower seed butter and cut the sandwich in two using a serrated knife.
If packing for a lunchbox, wrap in a natural paper towel to help keep the sandwich together when placing in an airtight container.
*Apple Butter:
Preheat your oven to 250 degrees F if using a conventional oven and 225F if you have a convection fan.
Cut the apples into large dice, careful to remove all seeds, and place the apples, apple cider, brown sugar and 1/2 teaspoon salt in a large ovenproof pot or Dutch oven and place on the stove over medium heat.
Bring to a simmer, partially cover and cook until the apples are soft, be sure to stir regularly, it should take about15-20 minutes to cook.
Remove the Dutch Oven from the heat and stir in the lemon juice, cinnamon, curry powder, and vanilla.
Puree the mixture in a blender or a food processor in batches until the puree is smooth
Place the pureed mixture to the pan and bake, uncovered, stirring every 30 minutes, until thickened and deep brown/amber in color depending on the apples used, The cooking process should take between 2 1/2 to 3 1/2 hours, the timing also will depend on the kind of apples you use.
When the butter is finished remove from the oven and let cool completely on a counter with trivet at room temperature, then transfer to an airtight container and refrigerate up to 4-6 days.