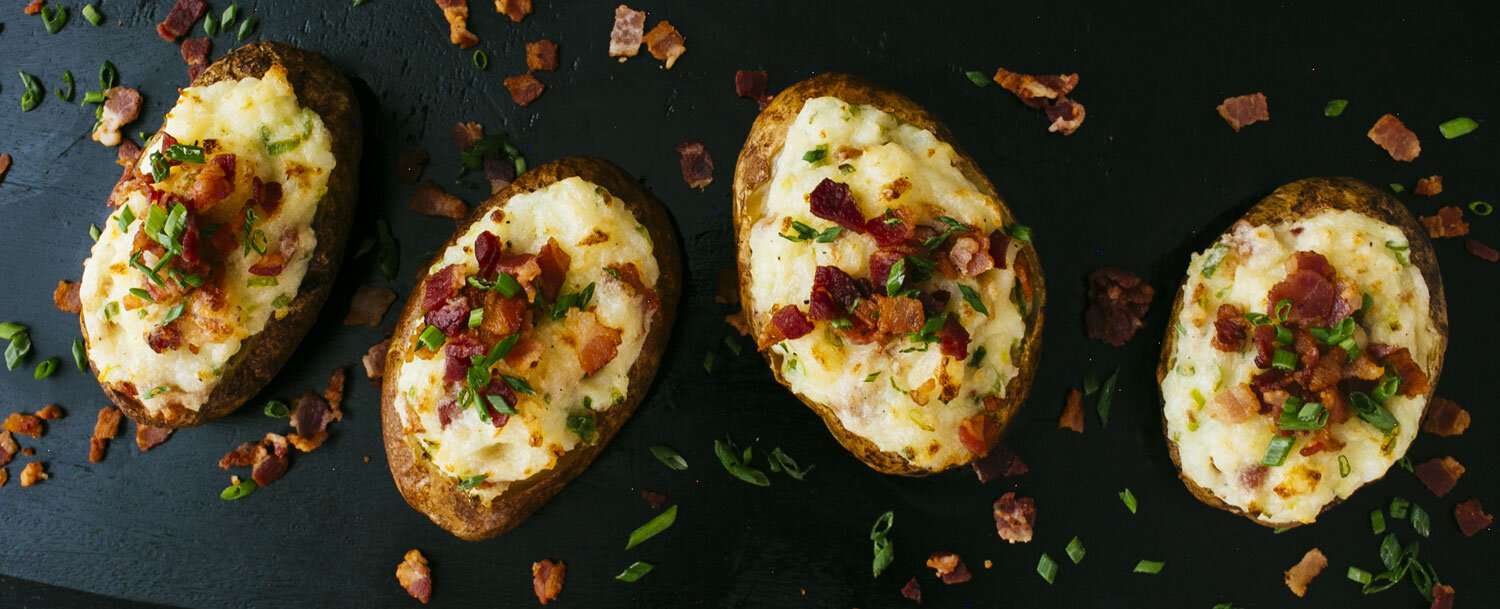 Upgrade your baked potato game with this five-ingredient recipe. Crisp bacon is folded into the mashed potato mixture and the potato skins are brushed with bacon fat so they get extra crisp while they bake. The recipe can be easily doubled for a larger group.
Serves 4 | Total Time: More Than 60 Mins
Ingredients
4 small russet potatoes (5–6 ounces each)
4 ounces APPLEGATE NATURALS® SUNDAY BACON, chopped
4 ounces crème fraîche or sour cream
¼ cup half and half
4 scallions, chopped
Kosher salt and freshly ground black pepper
Chopped chives, for serving
Instructions
Heat oven to 375°F. Pierce potatoes in several spots with a fork. Place directly on center oven rack. Bake about 45 minutes or until very tender. Transfer to a wire rack; cool 10 minutes.
While potatoes bake, cook bacon in a small skillet over moderate heat, stirring occasionally, until browned and crisp, 5 to 8 minutes. Using a slotted spoon, transfer bacon to a paper towel–lined plate to drain. Reserve fat in skillet.
If necessary, use oven mitts to hold a hot potato. Cut off top quarter of the potato. Using a spoon, scoop out potato, leaving a 1/4-inch-thick shell; transfer flesh to a bowl. Repeat with remaining potatoes. Mash potato in bowl until smooth. Mix in crème fraîche, half-and-half, scallions and 1½ tablespoons bacon fat from the skillet. Gently fold in all but 2 tablespoons of the chopped bacon (reserve the remaining for garnish). Season with kosher salt and pepper.
Brush the outsides of the potato shells with some of the reserved bacon fat. Spoon or pipe potato mixture into shells. Place on a small baking pan. Bake until heated through and tops are beginning to brown, about 30 minutes.
To serve, transfer the baked potatoes to a platter. Garnish with the remaining bacon and chopped chives.
Note: Potatoes can be baked and filled then covered loosely with plastic wrap, and chilled for up to 24 hours. Bake at 375°F until heated through, about 45 minutes.