Breakfast Pigs in a Blanket with Spiced Maple Whip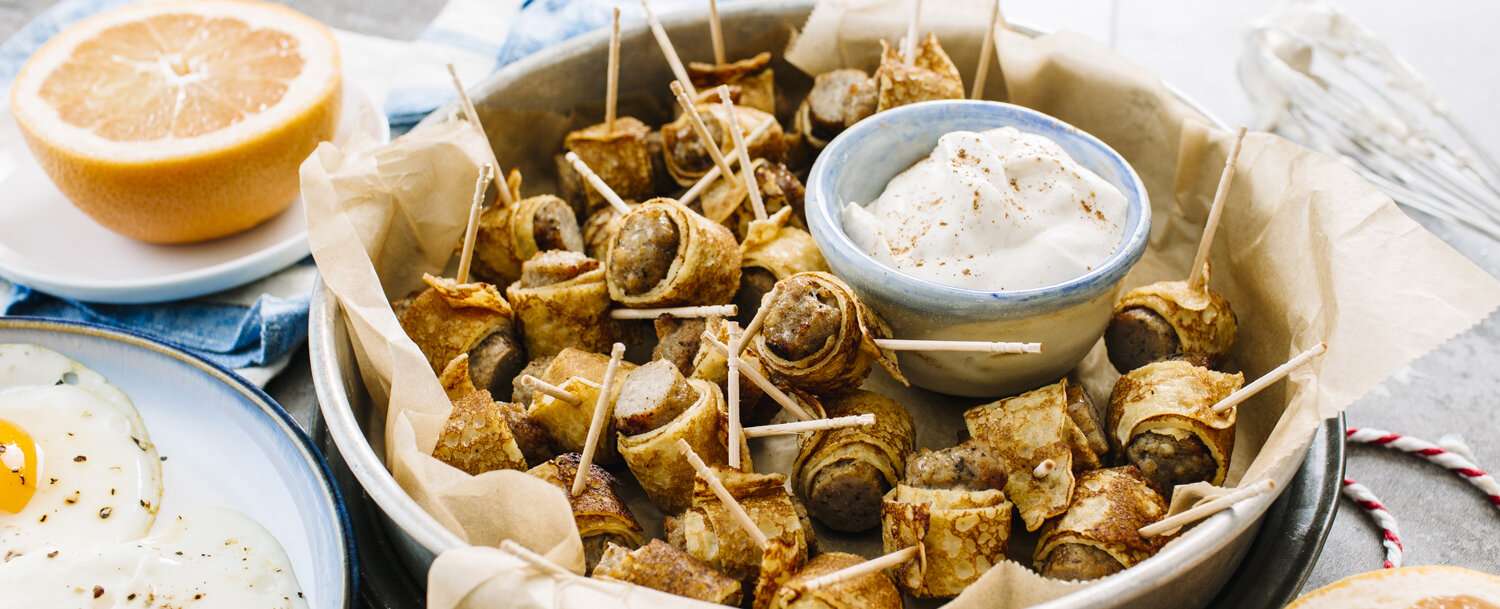 More and more grocery stores carry ready-made crêpes, which makes this simple brunchy dish even easier. But if you want to make your own, a recipe is included below.
Makes about 20 | Total Time: Less Than 30 Mins
Instructions
Preheat the oven to 350°F. Line a baking sheet with a piece of parchment paper.
Cook the sausages according to package instructions. Remove from the heat and cut each sausage in half crosswise.
Roll a crêpe strip around each piece of sausage, securing it with a toothpick. Arrange on the baking sheet. Repeat with the remaining sausages and crêpes.
Place the wrapped sausages in the oven to warm up for about 5 minutes.
While the sausages warm up, make the maple whip. Combine the heavy cream, maple syrup, pumpkin pie spice and salt in a mixing bowl. Using an electric mixer, whip the cream until it holds soft peaks. Transfer to a serving bowl.
Serve the warm pigs in a blanket with the maple whip.
Crêpes:
Makes about 12 crêpes / Takes less than 45 minutes
3 large eggs
2 cups milk
1 cup all-purpose flour
1 tablespoon maple syrup
½ teaspoon vanilla extract
Pinch of kosher salt
3 tablespoons butter
Combine the eggs, milk, flour, maple syrup, vanilla and salt in a blender and blend until very smooth.
Heat an 8-inch nonstick skillet or crêpe pan over moderate heat. Add some butter to the pan and swirl to coat the bottom. Pour about ¼ cup batter into the pan, swirling to form a thin, even crêpe. Cook until top looks dry, about 90 seconds. Flip the crêpe and cook until cooked through, about 1 minute more. Transfer to a plate.
Repeat with the remaining batter, adding more butter between each crêpe and stacking crêpes directly on top of each other. Crêpes can be made up to 1 day ahead and refrigerated, tightly wrapped.