Healthy Butternut Squash Soup with Ham & Chives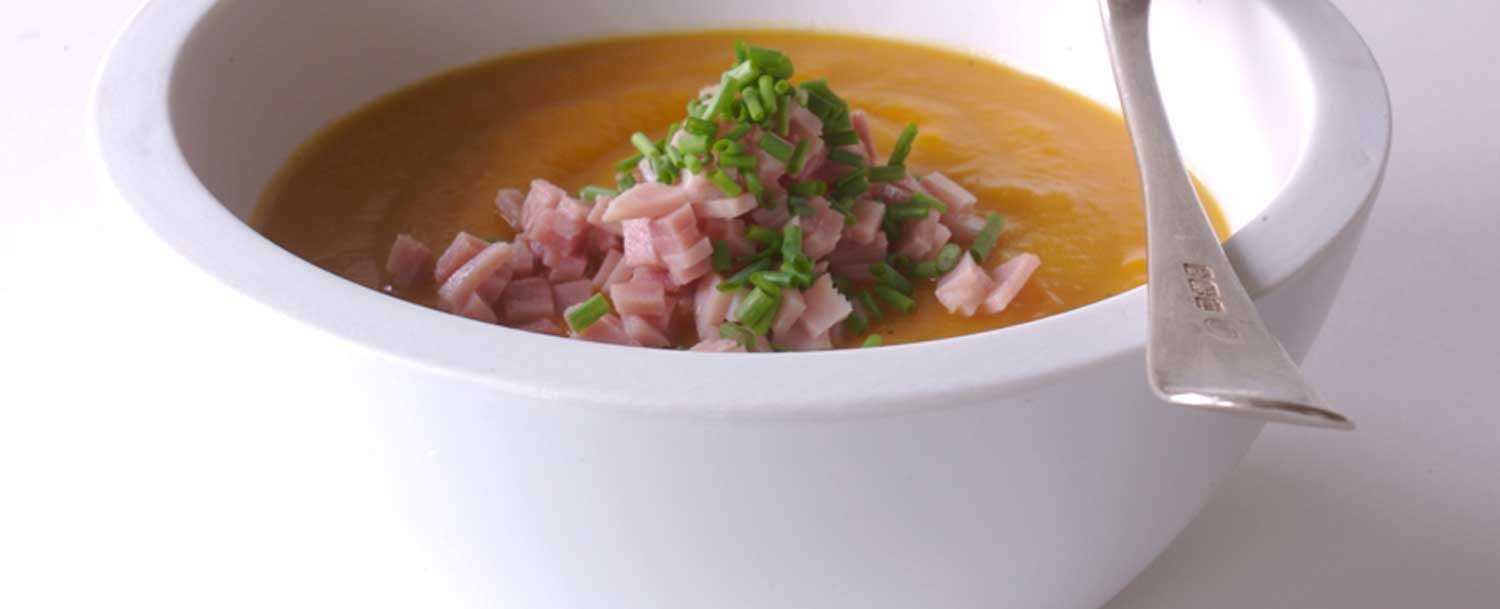 The ever-so-slight saltiness of ham is a perfect complement for the rich sweet flavor of butternut squash.
If it suits your taste, try adding a dollop of plain yogurt along with the ham and chives. (Any variety of hard squash or even carrots can stand in for the butternuts.)
Serves 4 - 6 | Total Time: More Than 60 Mins
Ingredients
2 tablespoons of butter
1 yellow onion, peeled and chopped
A large piece of fresh ginger, cut into four pieces
Salt and freshly ground black pepper
2 small butternut squash, halved and seeded
1 russet potato, peeled and cut into pieces
4 cups chicken stock
7-oz. package Applegate Naturals® Slow Cooked Ham
A handful of fresh chives, finely minced
Instructions
Melt the butter in a large heavy pot over medium heat. Add the onions and ginger.
Season with a large pinch of salt and several grindings of pepper.
Stir occasionally and cook until the onions are soft, about 15 minutes.
Meanwhile, use a vegetable peeler to remove the skin from the squash then cut the squash into 2-inch pieces.
Add the squash and potatoes to the onions.
Add the chicken stock, reduce heat to medium low, and cook until the squash is very tender, about 45 minutes.
Use a slotted spoon to fish out the ginger (4 pieces) and discard.
Transfer the soup to a food processor or blender and blend until the soup is very smooth (you may have to do this in batches).
If the soup is too thick add water or more chicken stock to thin it.
Taste the soup and season with salt and pepper. Ladle the soup into bowls and garnish with ham and chives.
This is a butternut soup recipe, or more accurately, a butternut squash soup recipe that we predict you will find yourself going back to again and again.