Crispy Ham, Salami, Pickles, and Melted Swiss Cheese Hot Dog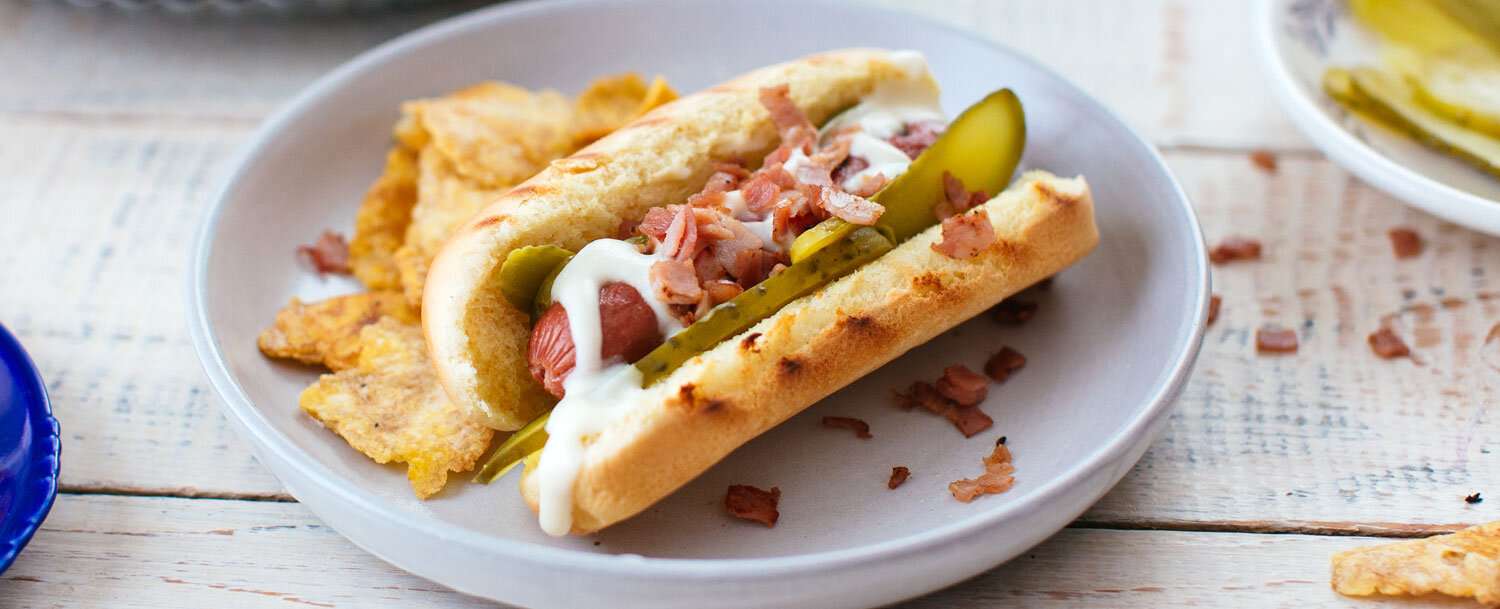 No one will disagree that ham and Swiss cheese are essential ingredients in a Cuban sandwich, but if you speak to someone from Tampa or Miami, you'll quickly discover one ingredient they can't seem to agree on- genoa salami. If you are Team Tampa (pro genoa salami), you'll love this recipe.
8 Topped Hot Dogs | Total Time: Less Than 30 Mins
Ingredients
For Hot Dogs and Swiss Cheese Sauce:
1 pack of your Favorite Hot Dog Buns
4 tablespoons butter
1/4 cup flour
2 cups milk
1/2 teaspoon salt
1/4 teaspoon white pepper
1 teaspoon onion powder
3/4 cup (1 package) Applegate Naturals® Emmentaler Swiss Cheese, chopped
1 teaspoon Dijon Mustard
Crispy Ham and Salami Mixture and Pickles:
Instructions
Swiss Cheese Sauce
1. Melt butter in a medium pot. Blend in flour, slowly add milk and heat, stirring until thickened.
2. Mix in salt, pepper and onion powder, and Dijon mustard.
3. Add Swiss cheese 1/4 cup at a time beating until smooth. Add additional milk if too thick.
Crispy Ham and Salami Mixture:
1. In a sauté pan over medium-high heat, cook ham and salami until crispy.
In a small bowl, mix crispy ham with uncooked salami.
Assembly:
1. Prepare hot dog to your liking. Place on bun.
2. Top with Swiss Cheese Sauce.
3. Top with Crispy Ham and diced Salami mixture.
4. Arrange 2-3 pickle slices per hot dog.