Tuscan Bean and Sausage Stew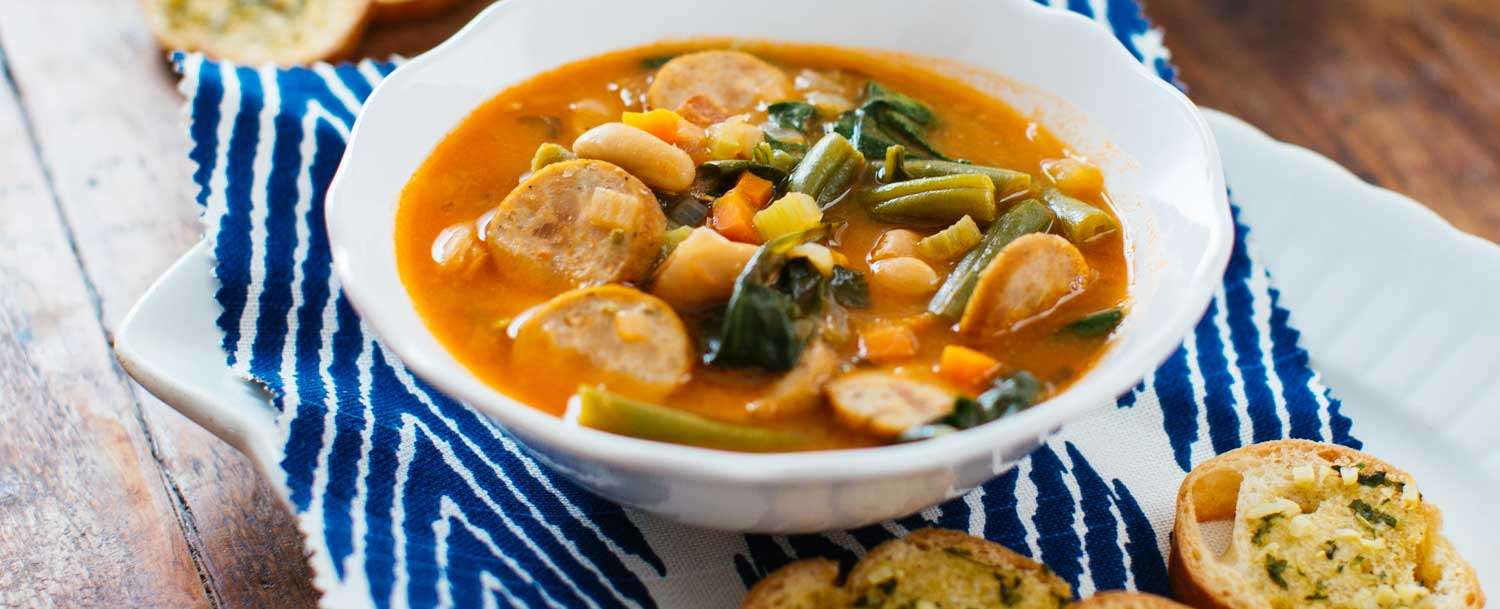 In Tuscany, the garlic toast is placed in the bottom of the bowl and the stew is ladled over it so it can absorb the savory broth. Serve this with some crushed red pepper flakes on the side if your guests want to heat things up.
Serves 6 | Total Time: Less Than 60 Mins
Ingredients
4 ounces Applegate Naturals® Sunday Bacon® Brand, cut into ½-inch strips
2 (15-ounce) cans cannellini beans, rinsed and drained
2 carrots, diced
2 celery ribs, diced
1 medium yellow onion, diced
5 cloves garlic, thinly sliced
3 tablespoons tomato paste
1 pound green beans, trimmed and cut into 2-inch pieces
½ cup chopped fresh basil leaves
1 (12-ounce) package Applegate Organics® Sweet Italian Sausage, sliced
4 cups chicken or vegetable broth
1 cup water
Kosher salt and freshly ground black pepper
1 (5-ounce) bag fresh baby spinach
For the garlic toasts:
1 fresh gluten-free or regular baguette, thinly sliced
½ cup extra-virgin olive oil
3 cloves garlic, finely chopped
5 fresh basil leaves, chopped
Kosher salt and freshly ground black pepper
Instructions
Sauté the bacon in a medium pot until crisp and brown, about 10 minutes.
While the bacon cooks, purée one of the cans of beans in a blender. Rinse and drain the other can of beans; set aside.
Add the carrots, celery, onion and garlic to the bacon and cook, stirring occasionally, until softened, about 10 minutes.
Add the tomato paste and cook, stirring, for 1 minute. Add the green beans, basil, sausage, chicken broth, water, the puréed and whole cannellini beans, 1 teaspoon salt and ½ teaspoon black pepper.
Bring to a simmer, then lower the heat and simmer gently, uncovered, until vegetables are tender, about 30 minutes.
Stir in the spinach and cook until tender, about 5 minutes. Season to taste with salt and pepper.
Serve in warm bowls with the garlic toasts.
For the garlic toasts:
Preheat the oven to 350°F. Arrange the baguette slices on a baking sheet.
Stir together the olive oil, garlic, basil and salt and pepper to taste. Brush the garlic mixture evenly over the baguette slices.
Bake until toasts are golden brown, about 15 minutes.